Office numbers are now back to their normal numbers. High School: 760-372-2824 Elementary: 760-372-2868

Arzell from Searles Valley Minerals wants to inform the community that the boilers will be coming back up sometime Monday or Tuesday. They will be venting steam and they expect that it will be very loud! They apologize for the noise but there is nothing that can be done to stop the noise. Boiler noise is a step toward recovery! Let them Roar!

On behalf of Trona Joint Unified School District, we would like to thank Allie Abbott and all others involved in this great cause to ensure that Trona students are prepared for school. They have done such an excellent job, and have put in so much effort into making this happen for our students. Tomorrow they will be at the Elks handing out free backpacks and supplies for all grades, from 12pm to 4pm for Trona registered students. A huge THANK YOU to Allie and your team for all your hard work on this great service project!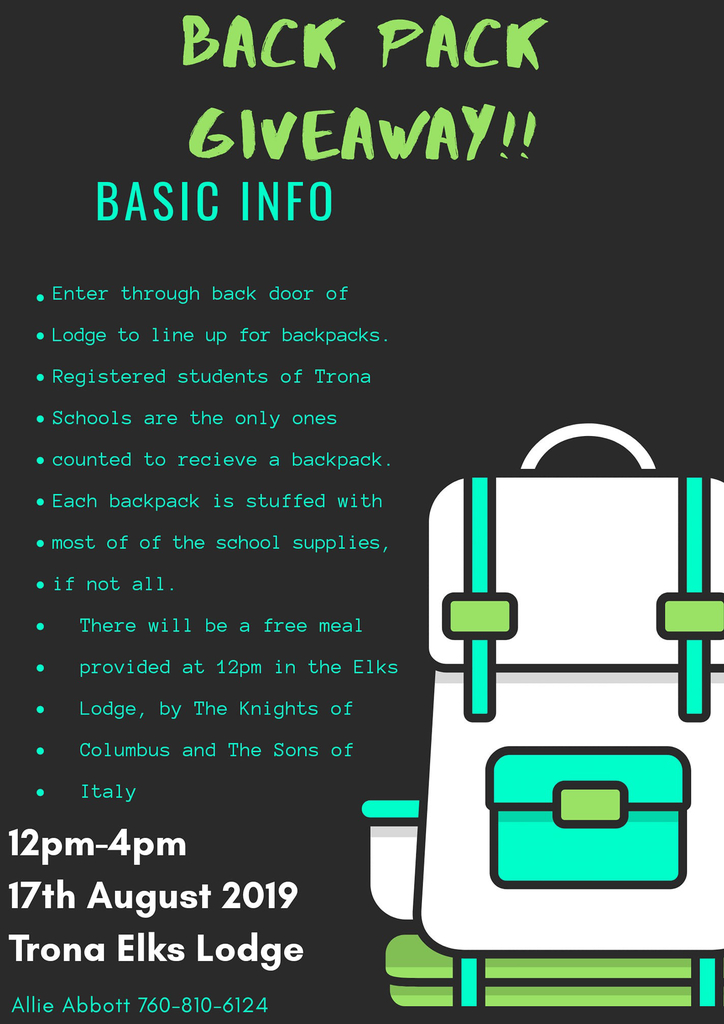 Due to the recent earthquakes and the damages done to the high school campus, school will start for both schools Tuesday, September 3, 2019 at the elementary campus

State of California Department of Transportation PRESS RELEASE August 1, 2019 Press Release Number: 19-250 Project ID: 08-1L2604 District: 8 Riverside/San Bernardino Contact:
shane.massoud@dot.ca.gov
Phone: (909) 383-4631 Rock Scaling on State Route 178 in Ridgecrest SAN BERNARDINO – The California Department of Transportation (Caltrans) will begin rock scaling work on State Route 178 (SR-178) in Ridgecrest. Crews will be assessing slopes between postmile 10.0 to 12.0 on SR-178. The assessment work will take place Tuesday, August 6 and Wednesday, August 7 from 9:30 a.m. to 4 p.m. During this work there will be a one-way flagging operation. Please remember to reduce your speed as you approach the work zone. Know before you go! To stay on top of roadwork in the Inland Empire go to Caltrans District 8 and sign up for commuter alerts. Follow us for the latest information on Facebook and Twitter. To assist in planning your commute, view live traffic conditions using QuickMap and planned lane closures. For those with sensory disabilities requiring alternate formats (i.e. Braille, large print, sign language interpreter, etc.) and those needing information in a language other than English, please contact Shane Massoud at 909-383-4416 or TTY 711 by August 5, 2019.

Because of the recent earthquakes, outside communities have graciously donated school supplies and backpacks for all students TK-12th grade. Please come down to Trona Elks Lodge on Saturday, August 17th at 12:00 noon and pick up your backpacks and school supplies. The backpacks will have the supplies needed per grade level (k-6). High School students will also be included, however not all supplies will be included depending on the teachers and subjects.

New Pool Hours: Sunday - Friday 1pm to 6pm. Saturday 11am to 6pm.
From 8:30 to 10:30 USDA commodities will be available at the senior center

Message from County Supervisor Lovingood's newsletter: Following a swarm of earthquakes that hit the Trona area July 4 and 5, the County Board of Supervisors voted to waive permit fees for post-disaster recovery and repairs to residential properties. "Trona is a small but strong community," Supervisor Lovingood said. "The swarm of earthquakes may have jolted the town. But the residents stood 'Trona Strong' and are an inspiring example of resilience and of neighbors caring for each other." The board-approved waivers are up to a maximum of $1,500 per property, in Trona and surrounding County of San Bernardino communities damaged by the earthquakes. Permits for partial demolition and/or repairs for most of the tagged structures would cost less than $1,000. Properties requiring moderate alterations or additional inspections and consultation with staff could rise to the requested maximum of $1,500 per property. Upon completion of initial damage assessments in Trona and surrounding County communities following the 2019 July 4 and 5 Earthquake Swarm, 30 residences received red tags, meaning "unsafe to enter". An additional 52 residences received yellow tags, meaning "unsafe to occupy". The difference between red and yellow tags is the occupant may enter the yellow tagged structure briefly to retrieve belongings.

Reminder to all parents that have children starting kindergarten: Student must have all their shots and physical required done before they start school. Please bring proof to the elementary office.

Message from Searles Valley Water Company. The Boil water order has been lifted. Water is good to consume.

This message is from the Water Company: This is an update to let you know that we are moved into our temporary home. We are on Searles Street across from the U. S. Post Office building. We are open for business at our usual hours of 7:00 AM - Noon and 1:00 PM to 4:00 PM Monday through Friday, except for weekends and holidays. Our regular phone numbers are not working. Our phone numbers, until further notice, are 760-382-3776 and 760-382-8553. We are answering these phones. You can still pay your bills by mail to P.O. Box 577, Trona, CA 93592. There is a lot of construction going on around our building. Take care and watch for construction traffic. Please bear with us as we work out the kinks! TRONA STRONG! Audrey Schuyler Manager, Searles Domestic Water Company


​The Cumberland Presbyterian Church is collecting plastic bottles. Money collected will be added to the earthquake fund that has been opened by Community Chest at Desert Valleys. Please drop off you plastic bottles at the Cumberland Presbyterian Church. We need to RECYCLE!

TOWN MEETING I Just received a call from Dominque at Senior Groves office. There will be a Town Meeting tomorrow at 10:00 am at the High School Gym. Officials from Federal, State and County offices will be in attendance, including Senator Groves, Assemblyman Jay Obernolte
While supplies last meals are being served at the Cumberland Presbyterian church
Hot Meals are being served at the Cumberland Presbyterian church and Four Square church this evening
The Salvation Army is serving meals at the Cumberland Presbyterian Church, 83456 Argus Ave right now
TJUSD: We would like to send our condolences to everyone who has suffered through this horrific event. It is in these moments where we are defined. Just like in other natural disasters we have seen before, human beings are coming out to help and support one another. We would like to thank all those who have come to provide aid to the community of Trona. Unfortunately, the school is still an unknown. We do not know the extent of the damages but we hope to have more information soon. For now until further notice, the school will be closed. We will continue to send out any updates and new information. Please help us in spreading this information to the community. We are grateful for the support being provided by both the state and federal governments and hope that it will continue through this trying time as we rebuild. Thank you and be safe. Trona Joint Unified School Administration Team