District Families: There will be an emergency meeting of Governance Board of the Trona Joint Unified School District 10:00 am on Monday, March 16th to discuss the appropriate preparations and/or actions the district will take in response to the COVID-19 situation. Please be assured that the safety of our students, staff and surrounding community is our upmost concern.  Although there have been no confirmed cases of COVID-19 in either Kern or San Bernardino Counties as of March 14th, we realize this is a very fluid situation and could change at any time.  We are also aware that our schools provide essential services to our students such as meals, health and mental health services and child care, therefore the decision to close our schools will not be taken lightly. Until additional notification, classes at Trona Elementary and Trona High School will continue as regularly scheduled.  Our staff is hard at work developing contingency plans for providing school related services like meals, childcare and alternate forms of instruction should closing the schools become necessary.   We encourage parents and community members to attend the emergency board meeting tomorrow at 10:00 am at Trona Elementary School if you have any questions or concerns you would like to address.  Sincerely, Interim Assistant Superintendent, Janet Malony

Emergency Board Meeting tomorrow at 10:00 am in the Library at the Elementary School.

Dear Trona School District Families: At this time there have been no confirmed cases of COVID-19 in San Bernardino County and Kern County. We are following guidance provided by the California Department of Education, California Department of Public Health and local public health officials. We have decided to cancel/postpone all upcoming events up until April 13th. These events include sporting events, banquets, field trips, pep rallies, club activities, staff conferences, and any other school related events. These policies will be effective immediately. We will align our actions with Kern County Health Department, Sierra Sands Unified School District, and upper desert Districts of San Bernardino County. The District will be preparing to deliver education to our students at home in the event of a closure if this becomes necessary. Today the Governor's office will be releasing further information and as this develops we will continue to update our District. We will provide information regarding this situation as it becomes available and do our best to update everyone weekly. The following additional events are postponed/modified: Elementary: Parent/Teacher Conferences will now be held over the phone March 23-27. Your child will bring home a packet with any evaluation/test, anything pertinent to your child's academic progress. You will be able to view this packet while speaking to his/her teacher. The Awards Assembly on March 31st will include only students and staff. We apologize for any inconvenience this may cause. However, we still want to recognize your child's academic success. High School: SARB Meeting scheduled for March 19th will still continue, but will now take place by telephone. If you have received a letter to attend SARB on March 19th, please make sure the school has an updated phone number before March 19th. MORP Dance scheduled for March 27th is canceled. The basketball and cheer banquet scheduled for March 20th is postponed. District The ALICE Parent meeting that was scheduled for March 26th will be canceled and rescheduled at a later date. Students will continue to do the monthly drills. The Alice evacuation drill that was scheduled for April 3rd will be postponed and rescheduled at a later date.

Dear Trona School Families, Staff and Community Members, We understand the strong concern over the ongoing coronavirus outbreak. We would like you to know that Trona Joint Unified School District is being proactive in preparing and ensuring the safety of our students during this time. We are closely monitoring information coming from the Centers for Disease Control and Prevention (CDC) and San Bernardino County. We will share information as it becomes available. In the event of a school closure, the District is exploring what steps will be needed to continue the education of our students. The California Department of Public Health advises the following steps to prevent the spread of all respiratory viruses: · Wash hands with soap and water. · Avoid touching eyes, nose or mouth with unwashed hands. · Avoiding close contact with people who are sick. · Staying away from work, school or other people if you become sick with respiratory symptoms including, fever and cough. As a reminder, here are guidelines TJUSD provides to parents for determining when a child should stay home from school. · If a child has vomited in the last 24 hours. · If a child has had a fever in the last 24 hours. As always, the health and safety of our students and staff remain our number one priority, and as such, we will continue to communicate information as the situation develops.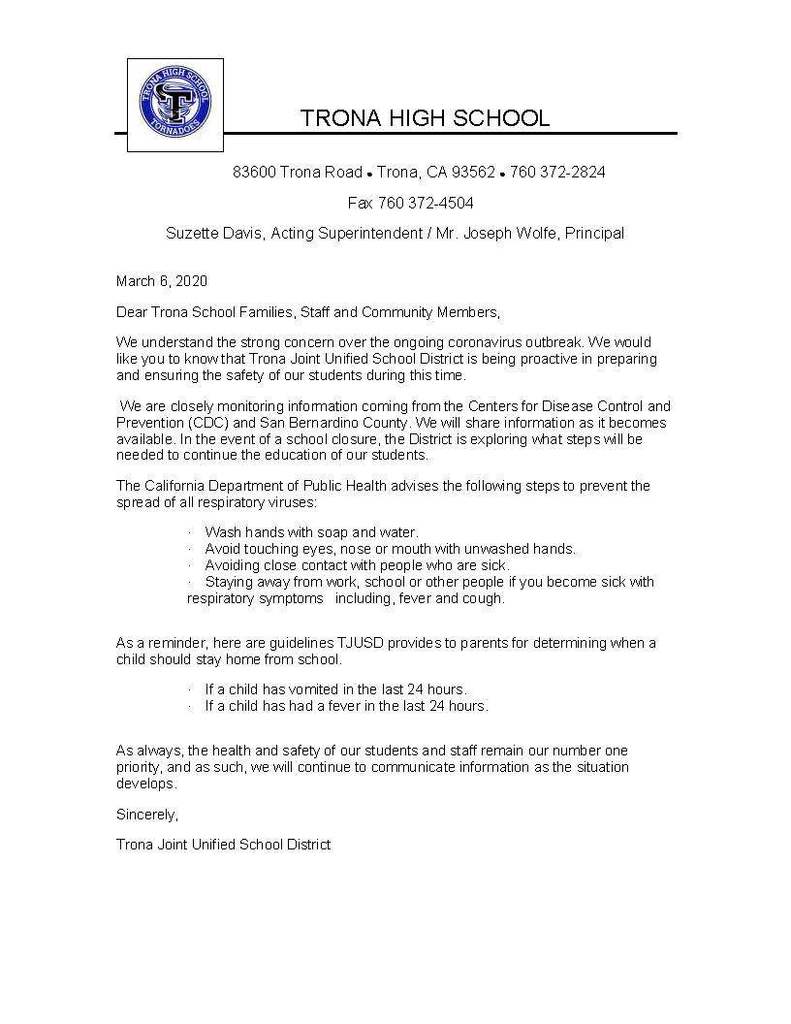 Sweetheart Coronation Wednesday, Feb 5th Coronation starts at 3:45 p.m. Boys' game starts at 5:00 p.m. Girls' game will follow. Spanish Club will be selling aguas frescas/refreshments. Sweetheart Court Senior Queen Candidates Michaela Reinke Jazmin Robles Telaysha Boddie Junior Princess Arlene Garcia Miki Izquierdo Sophomore Taleigha Hamlett Freshman Aleena Rojas King Candidates Johnathan MacLean Jimmy Surles Justin Hermoso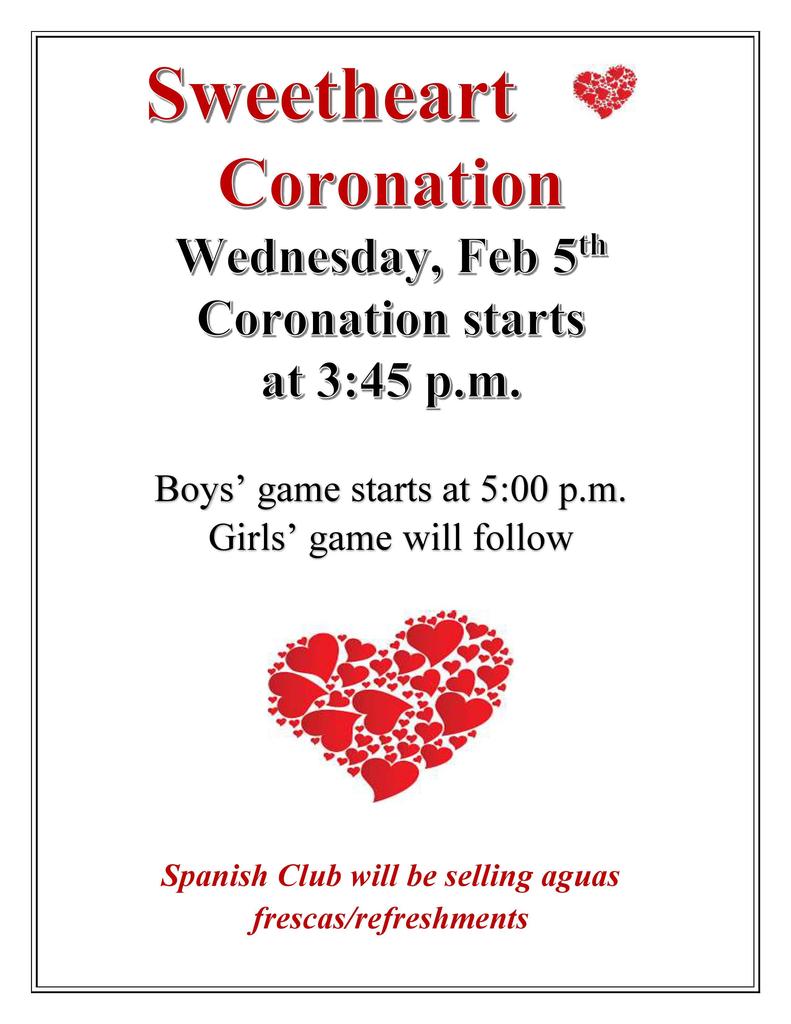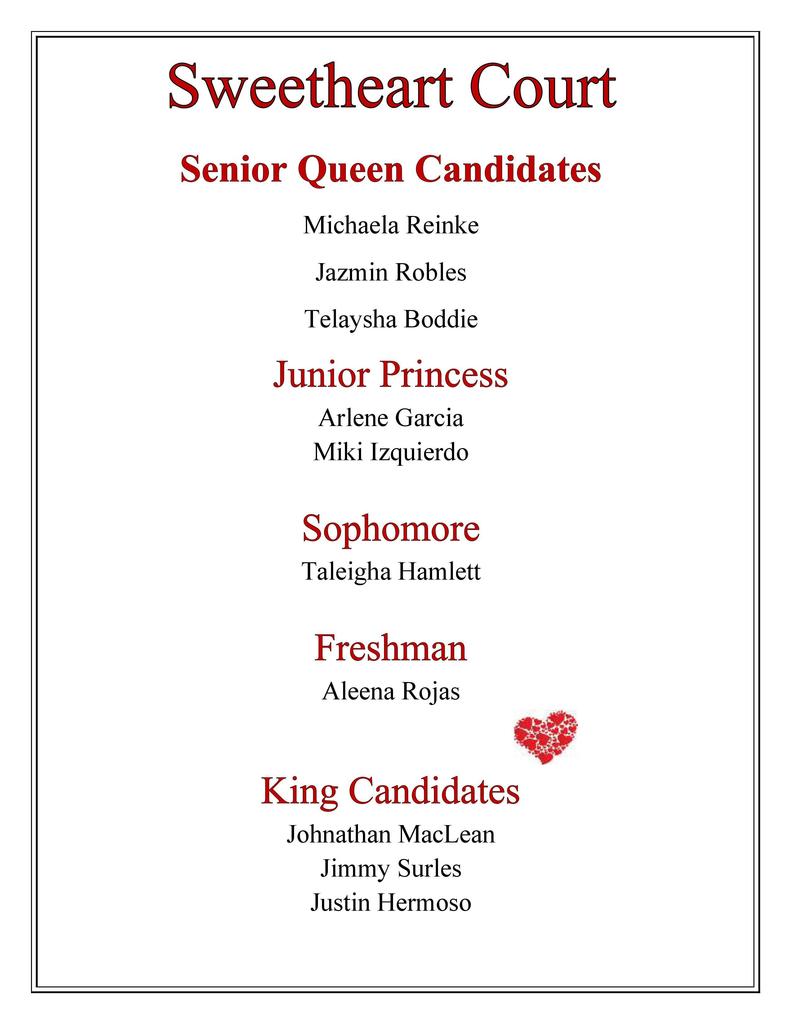 ALICE Active Shooters Response Parent/Community Informational Meeting What is ALICE? ● Alert ● Lockdown ● Inform ● Counter ● Evacuate Please join us on Thursday, Jan. 23, 2020 at 6:00 p.m. in the elementary school cafeteria for a short presentation on the ALICE program and to introduce the ALICE Parent Portal. This is a new program that we have implemented with our staff and students district wide for the 2019-2020 school year. This meeting will be open to parents and the public. ALICE Parent Portal website: ALICE Active Shooters Response Parent/Community Informational Meeting What is ALICE? ● Alert ● Lockdown ● Inform ● Counter ● Evacuate Please join us on Thursday, Jan. 23, 2020 at 6:00 p.m. in the elementary school cafeteria for a short presentation on the ALICE program and to introduce the ALICE Parent Portal. This is a new program that we have implemented with our staff and students district wide for the 2019-2020 school year. This meeting will be open to parents and the public. ALICE Parent Portal website:
https://portal.alicetraining.com/auth/SignUp.aspx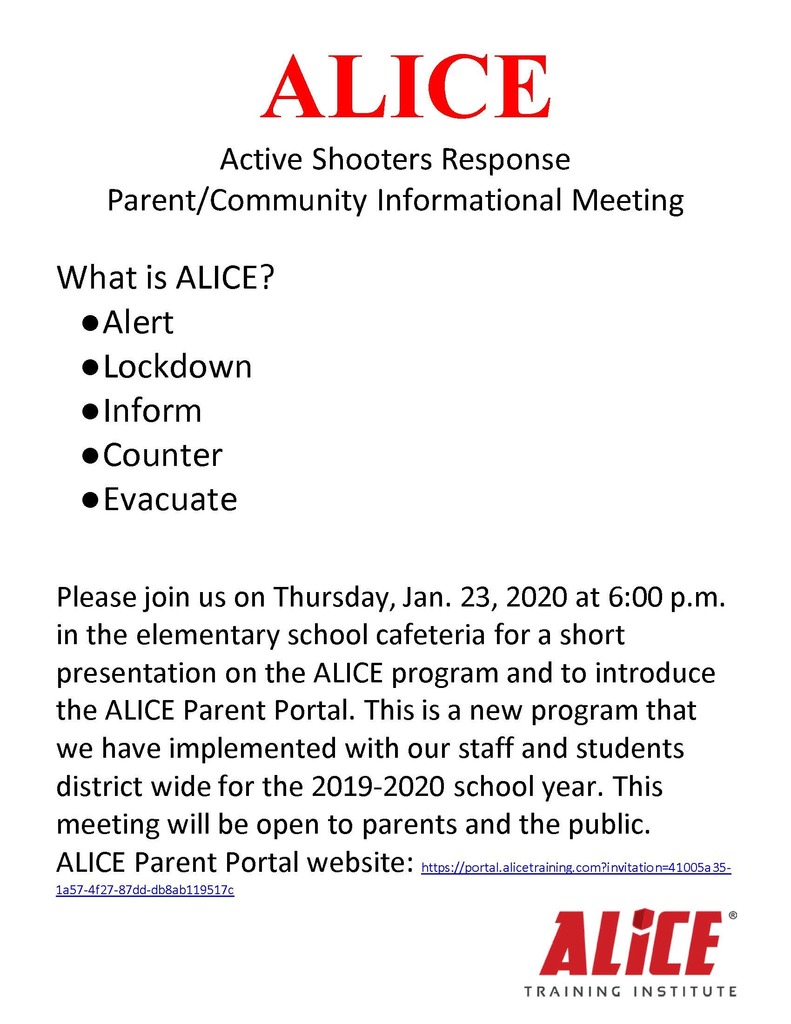 "Welcome to our district website. Please feel free to contact me if I can help you in any way." - Acting Superintendent Suzette Davis

Trona High School is holding a monthly WASC meeting tomorrow November 20th. Any parents/guardians interesting in attending please show up at 1:15 in the school library Help us make sure we are doing our best for your kids.

Trona High School and Mesquite High School students are participating in a two day Soft Skills workshop sponsored by San Bernardino Superintendent of Schools. Students are learning how to become effective communicators, creative & critical thinkers, team players, ethical decision-makers, future focused planners, and contributing citizens.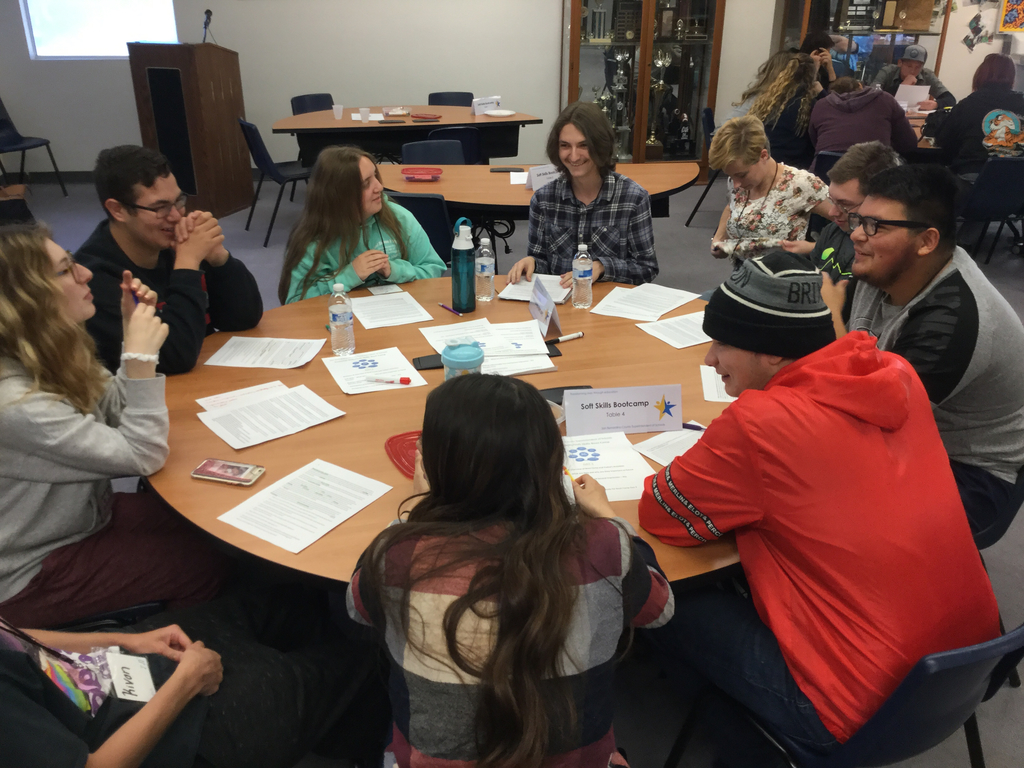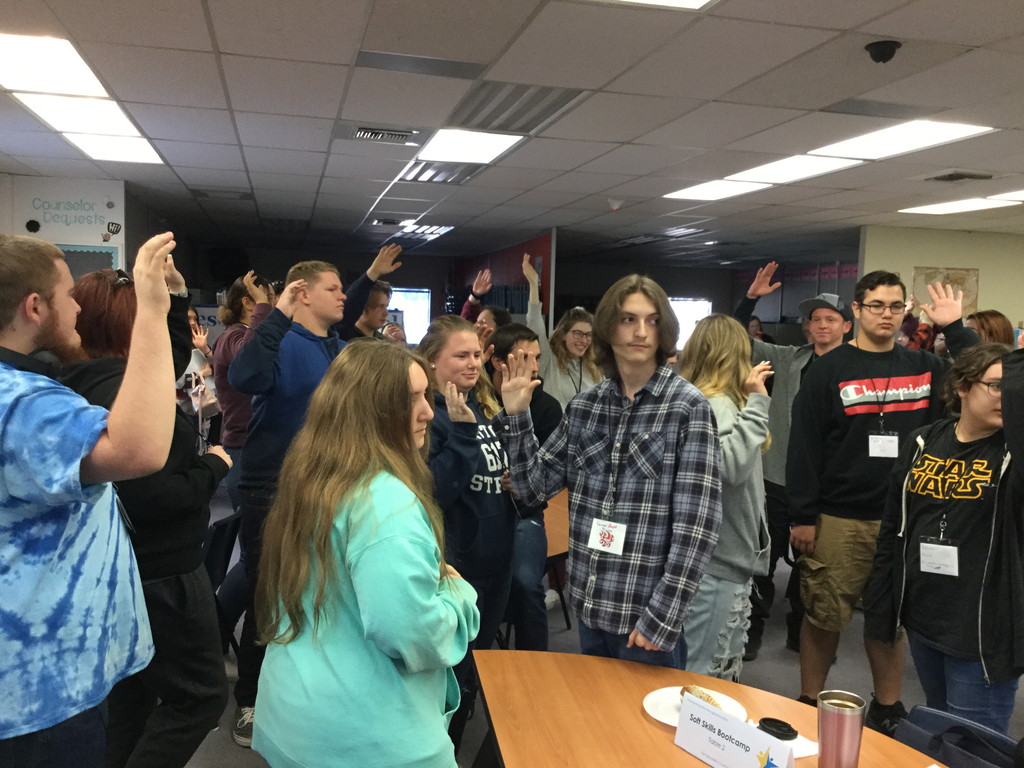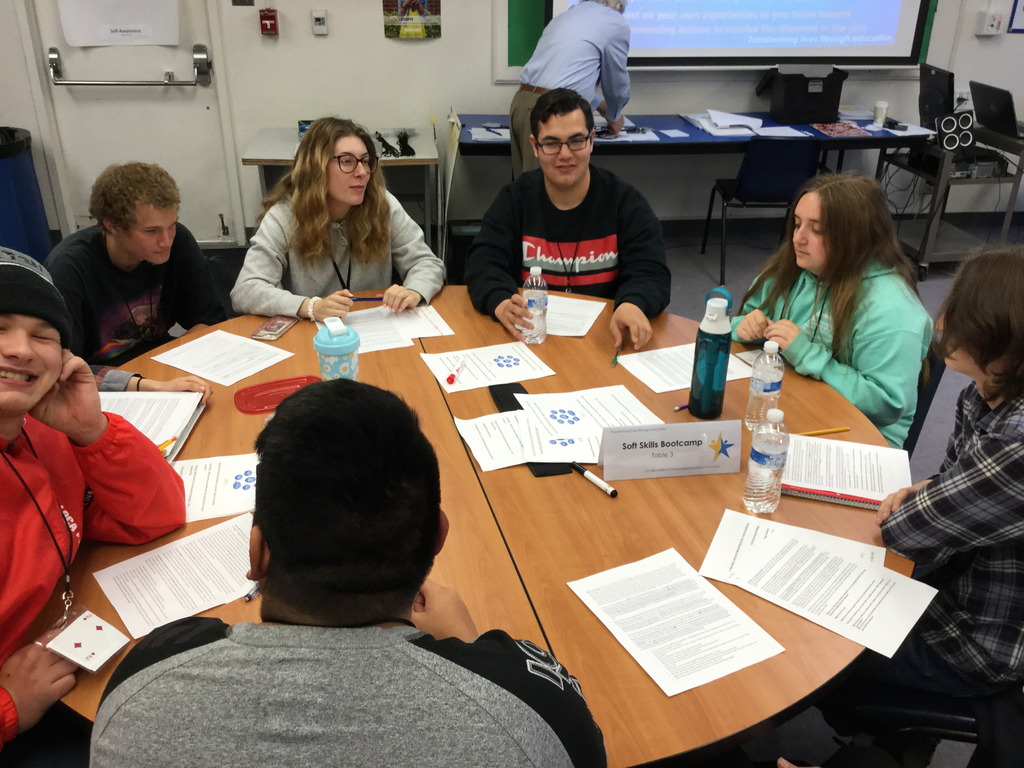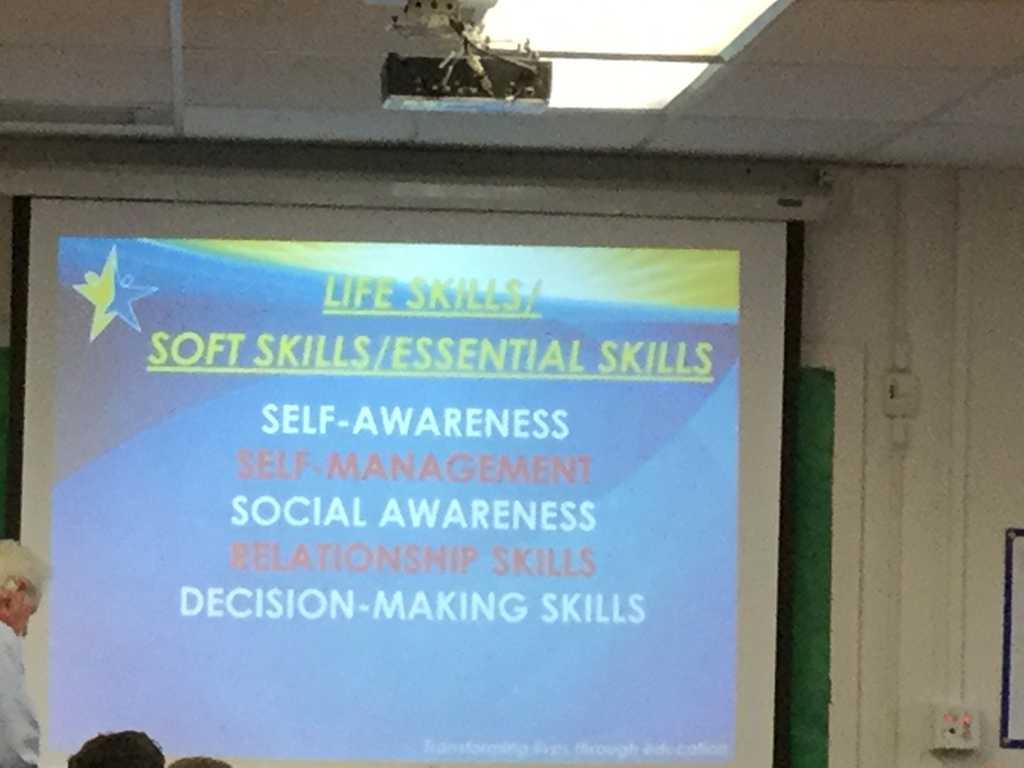 Dear Parent/Guardian, We are committed to providing the safest possible environment for our students. Over the years, we have taken great steps in making our schools safer. But, what if an armed intruder enters or is already in the building? Schools across the country have answered that question with a method we call Lockdown. In the event an unauthorized person enters the school buildings or grounds, a Lockdown alert is given, and students and staff are instructed to lock their classroom doors, turn out lights, hide in a far corner of the classroom, and remain calm and quiet. This is the procedure that we have followed for years, but we now know that we must provide students and staff with more options. Our district has enhanced the Lockdown procedures that we, as well as experts across the country, believe will increase the chance of survival during an active shooter incident. The enhancements we will teach out staff and students are known as ALICE. What does ALICE mean? Alert: We will get the word out using clear concise language and describe the location of the event. Lockdown: This is still a good starting point. The Lockdown will include locking the door but also barricading to deny entry. Inform: Continual communication keeping the staff and students informed allows for good decision making. Counter: Apple skills of movement, noise, distance, distractions, and using our over whelming numbers to gain control of the situation, as is age and ability appropriate. This is only if Evacuation and Lockdown is not possible. Evacuate: Reduce the number of potential targets for the shooter, and reduce chances of injuries resulting from friendly fire when help arrives. In NO WAY are we asking or teaching our students or staff to make any attempt to subdue an armed gunman outside of their secure area. However, we will provide them with options that, if faced with a life or death situation, can be applied to greatly enhance their chance of survival. These options including evacuating, barricading the door, and protecting oneself by any means necessary should an armed intruder enter the room. Training will emphasize that the best way to survive an active shooter is to evacuate, when possible, being mentally prepared and having been given the authority and ability to please contact one of us if you have any questions about the ALICE program or if you prefer that your student not participate. We look forward to working with students to provide them with skills they might need at school and in the community if confronted with a violent intruder. Sincerely, Joseph Wolfe Principal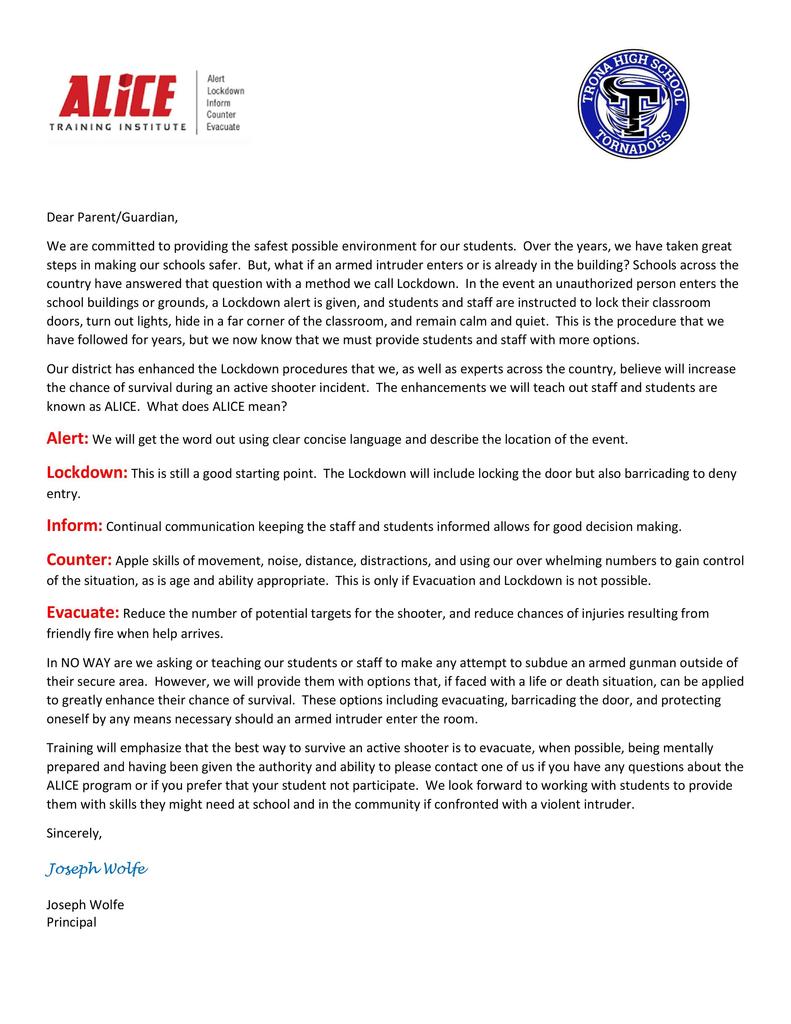 Trona High School will be setting up donations jars to help the family of Ignacio Lemus Vasquez, an Alpaugh athlete that lost his life last Friday, October 18th. All funds will be given to his family. Jars will be located in the High School and Elementary School Office.

Homecoming Events for Oct 28 - Nov 2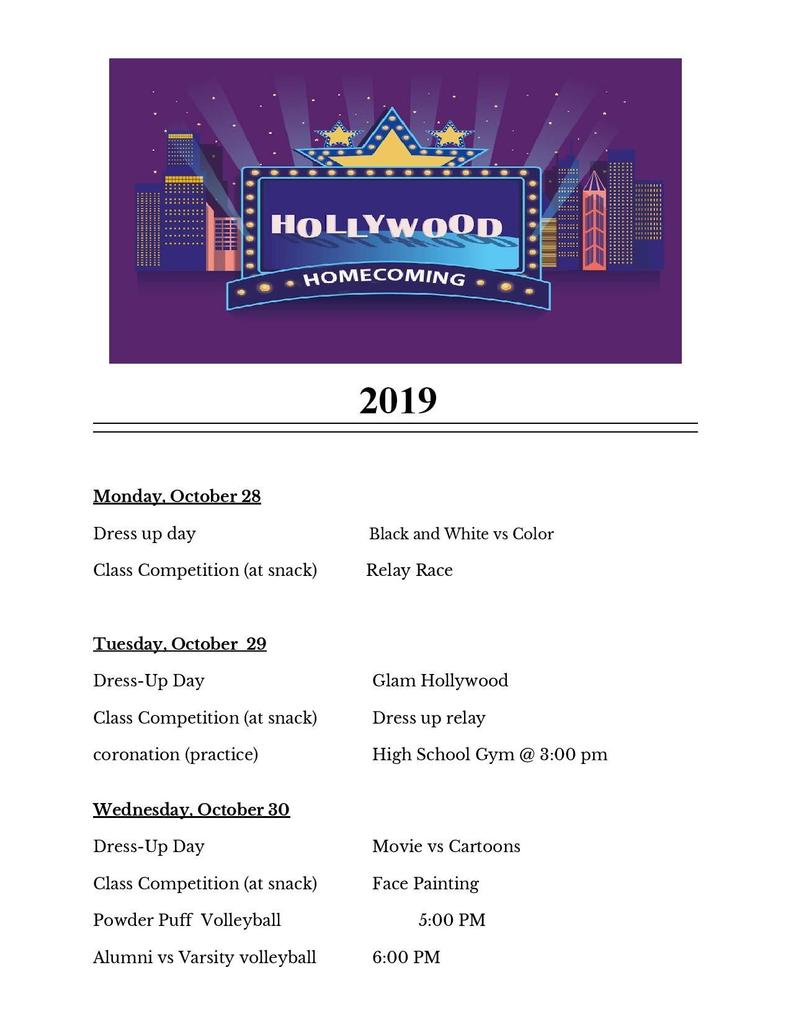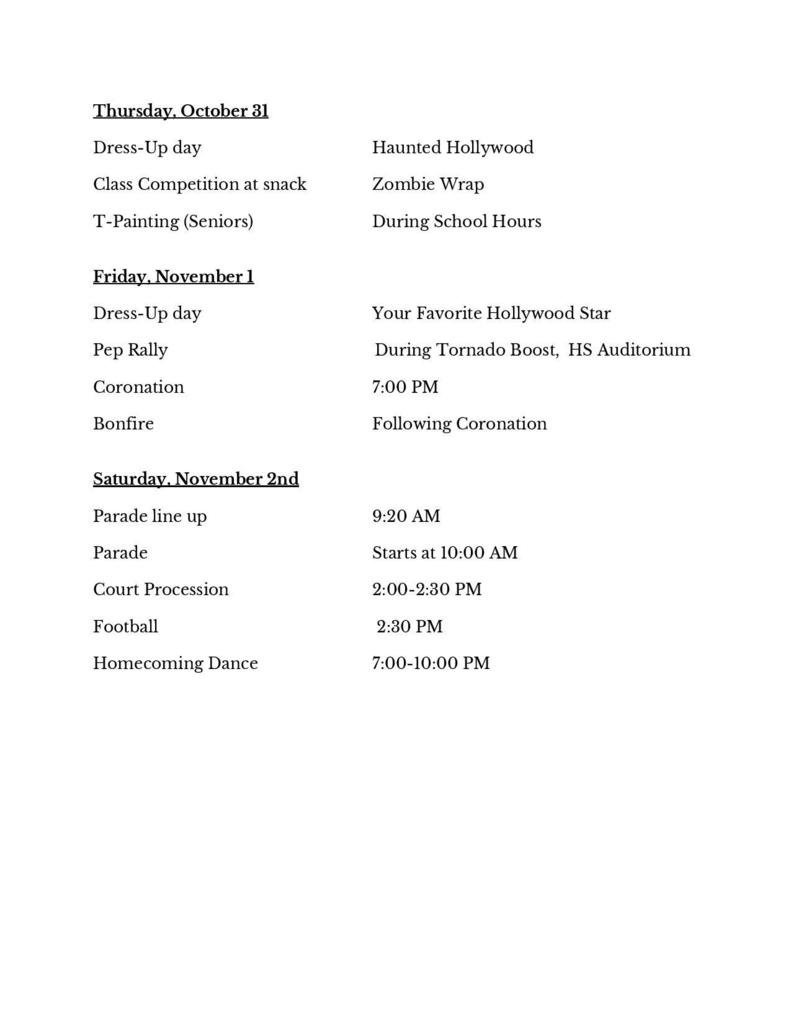 ALICE Parent and Community Meeting Oct 23, 2019 at 6:00 pm in the TES/THS Cafeteria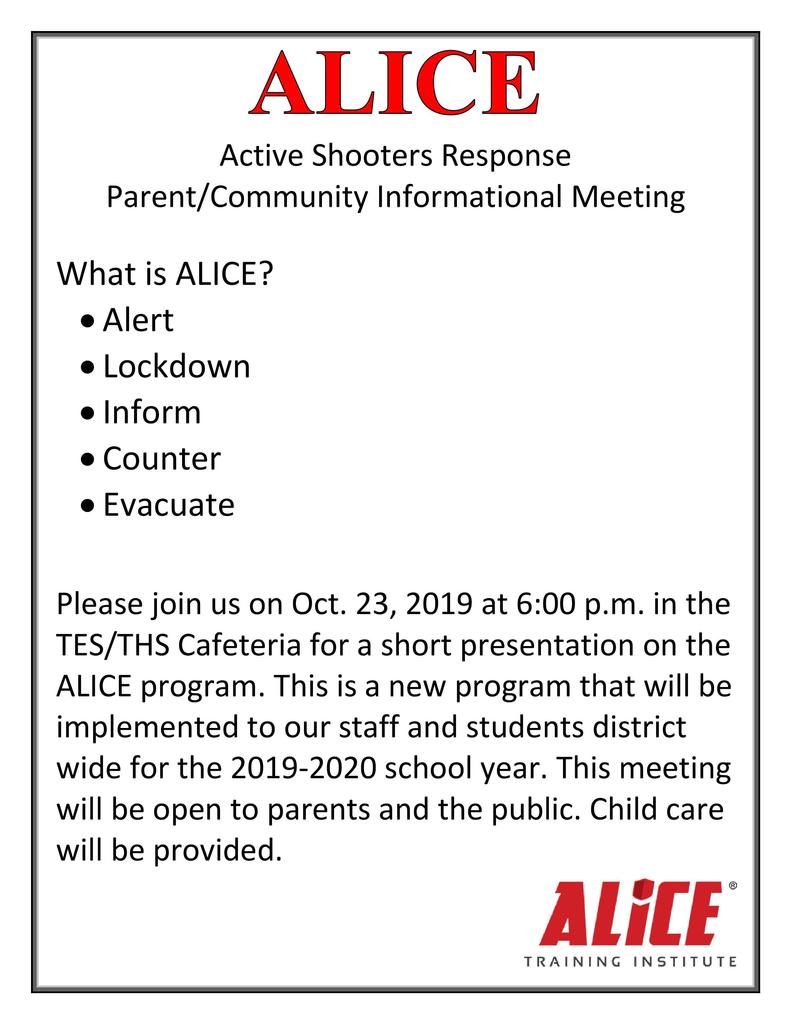 Office numbers are now back to their normal numbers. High School: 760-372-2824 Elementary: 760-372-2868

Arzell from Searles Valley Minerals wants to inform the community that the boilers will be coming back up sometime Monday or Tuesday. They will be venting steam and they expect that it will be very loud! They apologize for the noise but there is nothing that can be done to stop the noise. Boiler noise is a step toward recovery! Let them Roar!

On behalf of Trona Joint Unified School District, we would like to thank Allie Abbott and all others involved in this great cause to ensure that Trona students are prepared for school. They have done such an excellent job, and have put in so much effort into making this happen for our students. Tomorrow they will be at the Elks handing out free backpacks and supplies for all grades, from 12pm to 4pm for Trona registered students. A huge THANK YOU to Allie and your team for all your hard work on this great service project!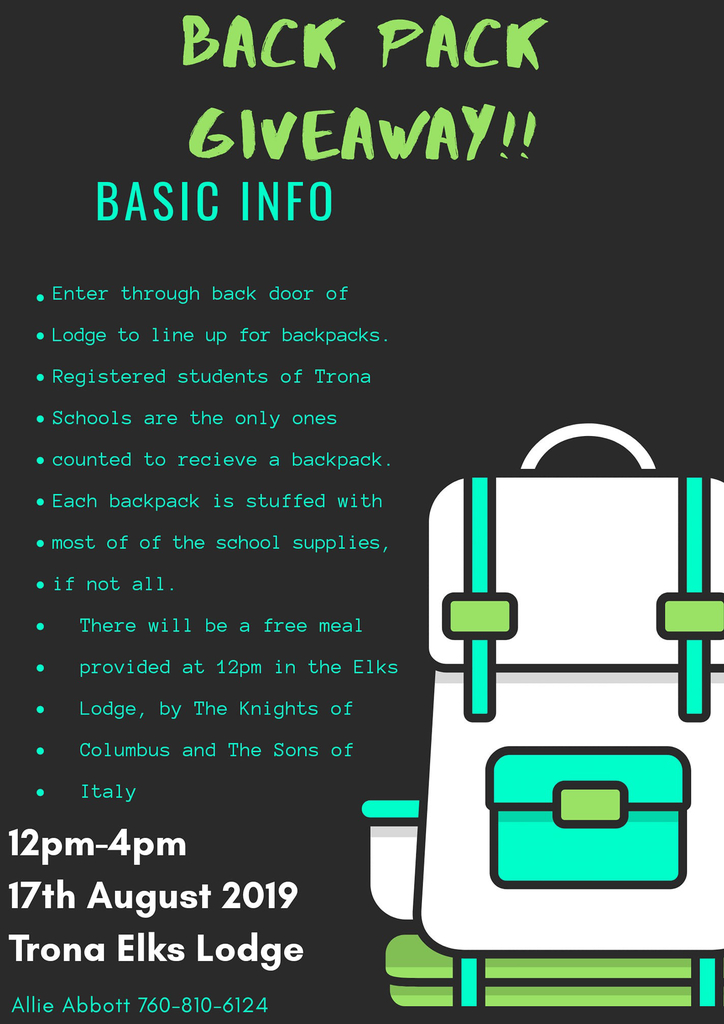 Due to the recent earthquakes and the damages done to the high school campus, school will start for both schools Tuesday, September 3, 2019 at the elementary campus

State of California Department of Transportation PRESS RELEASE August 1, 2019 Press Release Number: 19-250 Project ID: 08-1L2604 District: 8 Riverside/San Bernardino Contact:
shane.massoud@dot.ca.gov
Phone: (909) 383-4631 Rock Scaling on State Route 178 in Ridgecrest SAN BERNARDINO – The California Department of Transportation (Caltrans) will begin rock scaling work on State Route 178 (SR-178) in Ridgecrest. Crews will be assessing slopes between postmile 10.0 to 12.0 on SR-178. The assessment work will take place Tuesday, August 6 and Wednesday, August 7 from 9:30 a.m. to 4 p.m. During this work there will be a one-way flagging operation. Please remember to reduce your speed as you approach the work zone. Know before you go! To stay on top of roadwork in the Inland Empire go to Caltrans District 8 and sign up for commuter alerts. Follow us for the latest information on Facebook and Twitter. To assist in planning your commute, view live traffic conditions using QuickMap and planned lane closures. For those with sensory disabilities requiring alternate formats (i.e. Braille, large print, sign language interpreter, etc.) and those needing information in a language other than English, please contact Shane Massoud at 909-383-4416 or TTY 711 by August 5, 2019.

Because of the recent earthquakes, outside communities have graciously donated school supplies and backpacks for all students TK-12th grade. Please come down to Trona Elks Lodge on Saturday, August 17th at 12:00 noon and pick up your backpacks and school supplies. The backpacks will have the supplies needed per grade level (k-6). High School students will also be included, however not all supplies will be included depending on the teachers and subjects.