The 2020 Family and Community Engagement Summit September 22-25 3pm to 5pm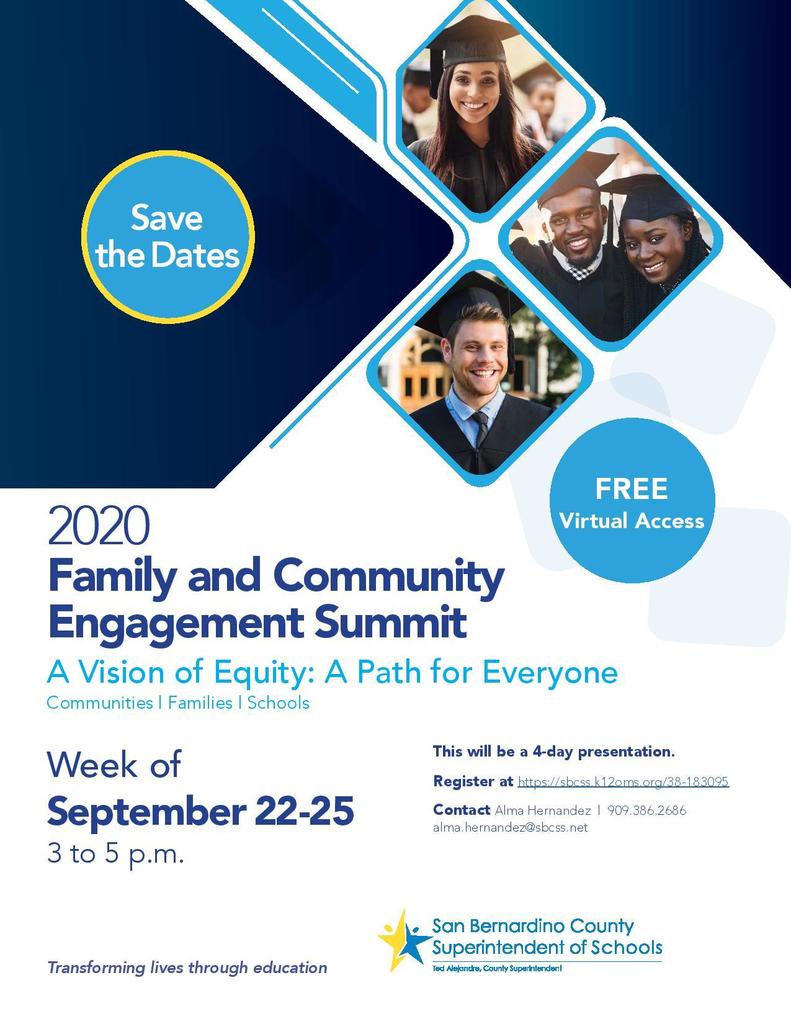 FREE COVID TESTING IS TODAY AT THE SENIOR CENTER. NOW UNTIL 3:30 PM. WALK INS WELCOME.

San Bernardino County is providing COVID testing June 23 from 9:00 am to 3:30 pm at the Trona Community Senior Center. The testing requires an appointment that can be made by calling 909 387-3911 or you may register on line at sbcounty.com. The testing is free and you do not need to be experiencing symptoms in order to be tested. Due to California Mandates, face coverings will be required during the appointment. Addtional information is available on the San Bernardino County website or by calling the Trona Community Senior Center at 760 372-5889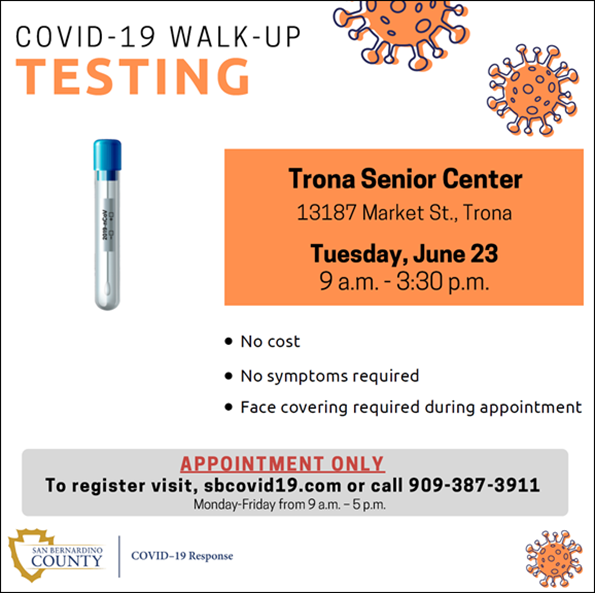 Trona Schools participate in National School Lunch Program and School Breakfast Program and Community Eligibility Provision therefore ALL Trona Elementary and High School K-12 students qualify for the P-EBT card. Frequently Asked Questions Question: How does P-EBT work for students attending schools that are providing meals through a Provision such as Community Eligibility Provision? Answer: For the purposes of P-EBT, all students who attend a Provision school are considered eligible for free and reduced-price school meals. If a student is directly certified, they do not need to apply for P-EBT and will automatically receive a P-EBT card in the mail. If a student is not directly certified and does not receive a PEBT card in the mail by about May 22nd, their parent or legal guardian can apply for P-EBT online. The P-EBT online application opens on May 22nd at: ca.p-ebt.org Question: Will younger siblings of students attending a Provision school be eligible for P-EBT? Answer: Only school-aged children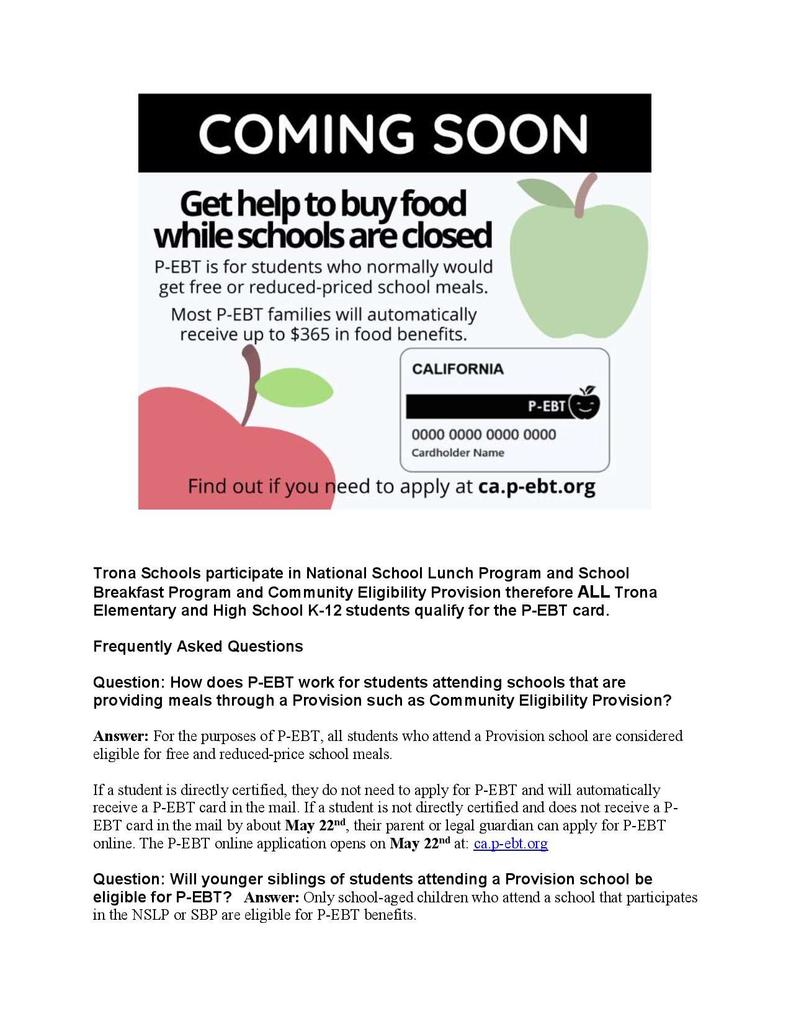 Two quick announcemnts Beginning Monday, May 18, school lunches will be served between 11:00 A.M. - 12:00 P.M. The Food Commodities will be distributed Friday, May 15th from 8:30 A.M. - 10:30 A.M. at the Trona Senior Center.

Yearbooks are only $40 and can be ordered online at balfour.com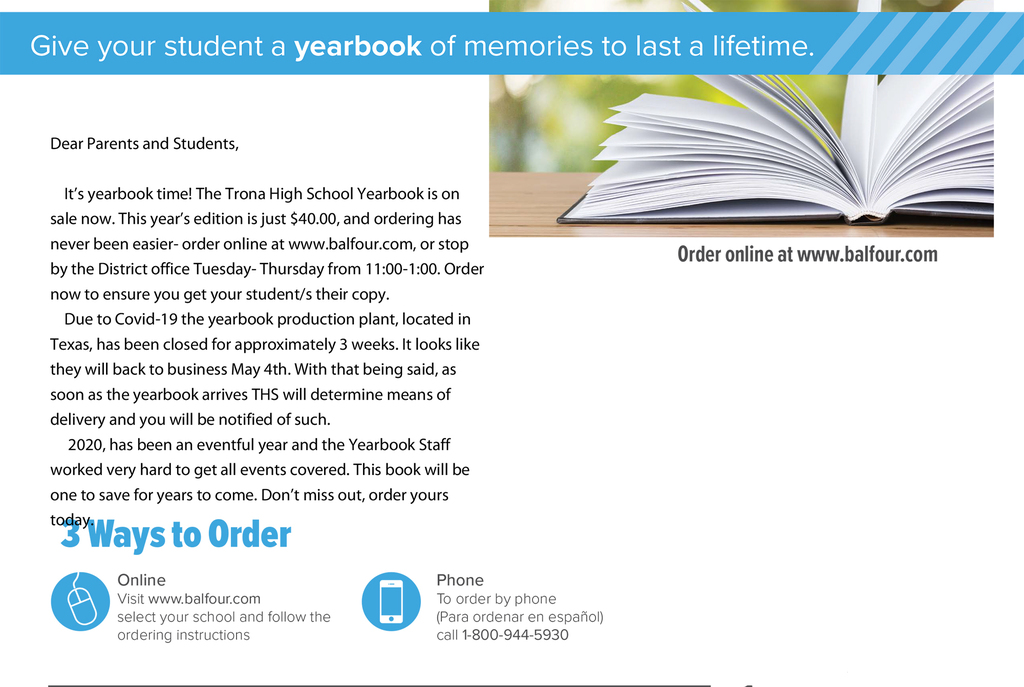 The window for ordering a yearbook is now open again. It will close May 4th. The cost is $25 and is sure to be a memorable one, especially after the year we had!!
Message to students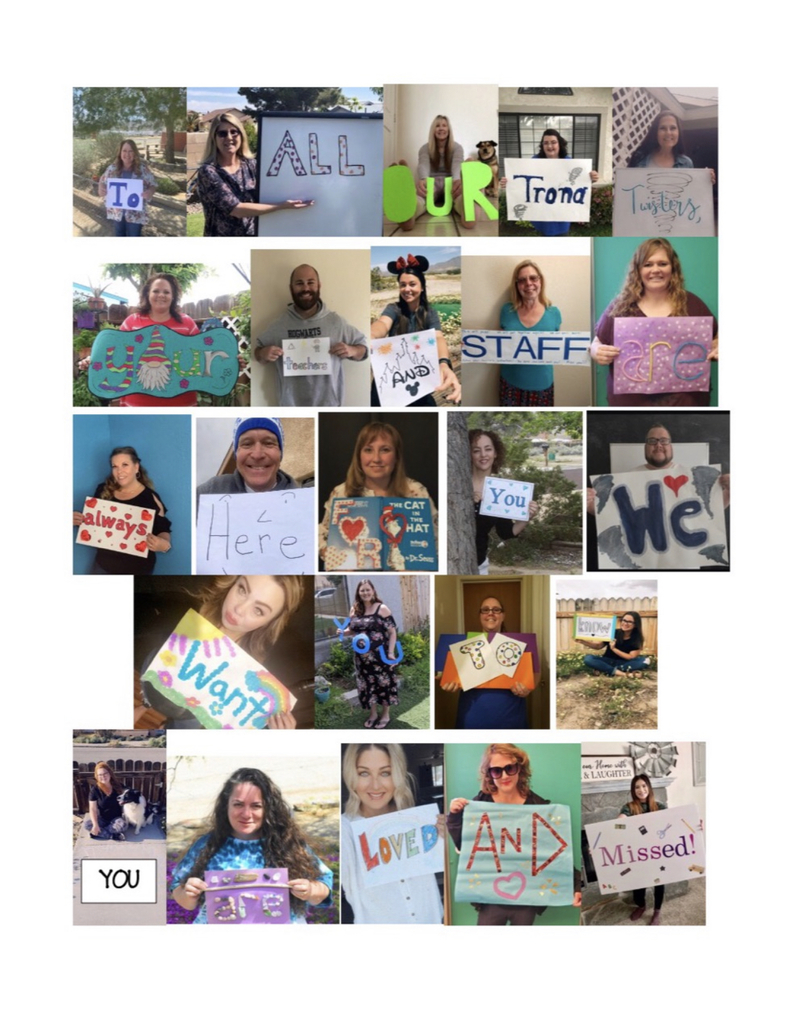 If you have children at home working without internet. Please email Mr. Wolfe as soon as possible. After April 13th, all student work will be internet base. Please email Mr. Wolfe today at
jwolfe@tjusd.net
or leave a message at 760-372-2824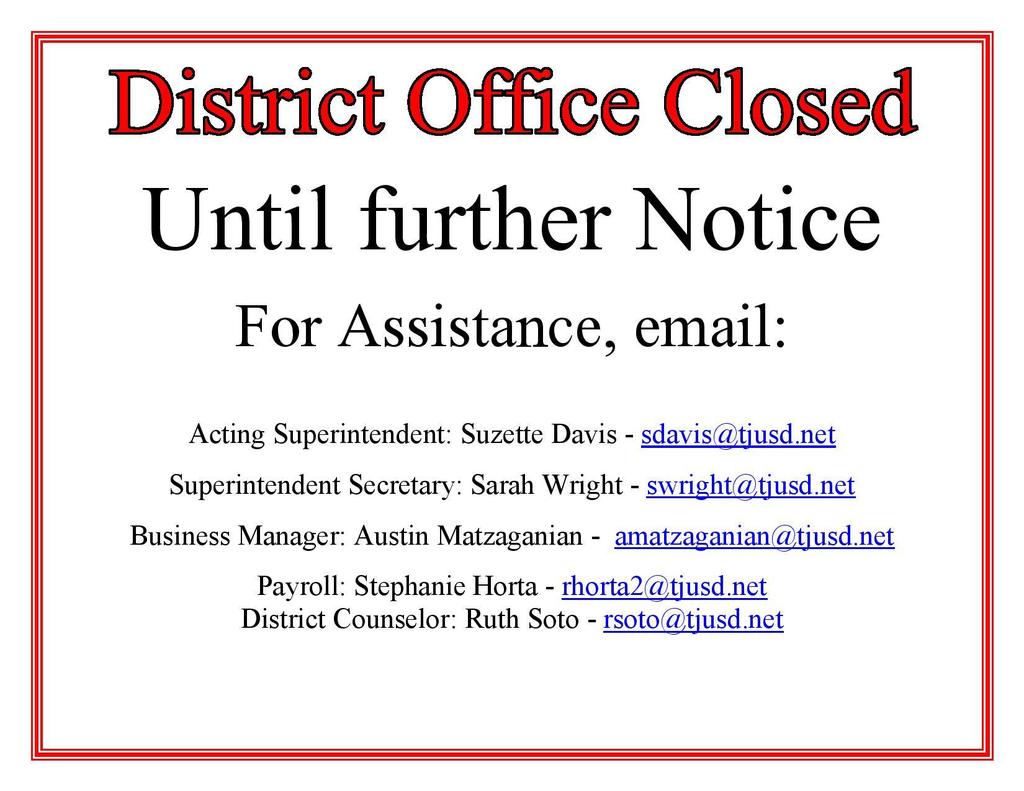 Trona Lunch Program Food pick ups will be Monday - Friday 11am - 12:30pm at the Elementary School for anyone 18 and under

Dear Trona Joint Unified School District Families: In response to the COVID-19 outbreak, the Trona Board of Education took action today to temporarily close Trona High School and Trona Elementary School from Tuesday, March 17th , 2020 and return on Monday April 13th , 2020. All school events have been postponed until further notice. Safety of our students, staff and community are our #1 priority. All staff will be meeting tomorrow to collaborate and develop a plan to ensure continuity of learning, while following CDC's guidelines so that everyone can remain safe. Parents and students will be notified of the plan, and will be provided with instruction and resources from teachers, so that students can have access to learning during this time. Please expect to receive this information no later than tomorrow evening. The District will be providing a "Grab and Go" lunch in the cafeteria starting tomorrow but will run Monday through Friday from 11:00 am to 12:30 pm, pick up only. The lunch is available for all children 18 and under, and must be present to receive. Delivery to bus stops could be an option in the future if necessary, we will let you know. We encourage all of you to stay informed by following our district webpage, app and our facebook page. Please parents, it is important to reassure your child that if they follow the CDC guidelines so they are safe. Please let us know if there is anything we can do for you. Trona Joint Unified School District Joseph Wolfe
jwolfe@tjusd.net

District Families: There will be an emergency meeting of Governance Board of the Trona Joint Unified School District 10:00 am on Monday, March 16th to discuss the appropriate preparations and/or actions the district will take in response to the COVID-19 situation. Please be assured that the safety of our students, staff and surrounding community is our upmost concern.  Although there have been no confirmed cases of COVID-19 in either Kern or San Bernardino Counties as of March 14th, we realize this is a very fluid situation and could change at any time.  We are also aware that our schools provide essential services to our students such as meals, health and mental health services and child care, therefore the decision to close our schools will not be taken lightly. Until additional notification, classes at Trona Elementary and Trona High School will continue as regularly scheduled.  Our staff is hard at work developing contingency plans for providing school related services like meals, childcare and alternate forms of instruction should closing the schools become necessary.   We encourage parents and community members to attend the emergency board meeting tomorrow at 10:00 am at Trona Elementary School if you have any questions or concerns you would like to address.  Sincerely, Interim Assistant Superintendent, Janet Malony

Emergency Board Meeting tomorrow at 10:00 am in the Library at the Elementary School.

Dear Trona School District Families: At this time there have been no confirmed cases of COVID-19 in San Bernardino County and Kern County. We are following guidance provided by the California Department of Education, California Department of Public Health and local public health officials. We have decided to cancel/postpone all upcoming events up until April 13th. These events include sporting events, banquets, field trips, pep rallies, club activities, staff conferences, and any other school related events. These policies will be effective immediately. We will align our actions with Kern County Health Department, Sierra Sands Unified School District, and upper desert Districts of San Bernardino County. The District will be preparing to deliver education to our students at home in the event of a closure if this becomes necessary. Today the Governor's office will be releasing further information and as this develops we will continue to update our District. We will provide information regarding this situation as it becomes available and do our best to update everyone weekly. The following additional events are postponed/modified: Elementary: Parent/Teacher Conferences will now be held over the phone March 23-27. Your child will bring home a packet with any evaluation/test, anything pertinent to your child's academic progress. You will be able to view this packet while speaking to his/her teacher. The Awards Assembly on March 31st will include only students and staff. We apologize for any inconvenience this may cause. However, we still want to recognize your child's academic success. High School: SARB Meeting scheduled for March 19th will still continue, but will now take place by telephone. If you have received a letter to attend SARB on March 19th, please make sure the school has an updated phone number before March 19th. MORP Dance scheduled for March 27th is canceled. The basketball and cheer banquet scheduled for March 20th is postponed. District The ALICE Parent meeting that was scheduled for March 26th will be canceled and rescheduled at a later date. Students will continue to do the monthly drills. The Alice evacuation drill that was scheduled for April 3rd will be postponed and rescheduled at a later date.