Order your 22-23 elementary yearbook featuring Kindergarten - 6th grade $25. Only available to order until April 14, 2023.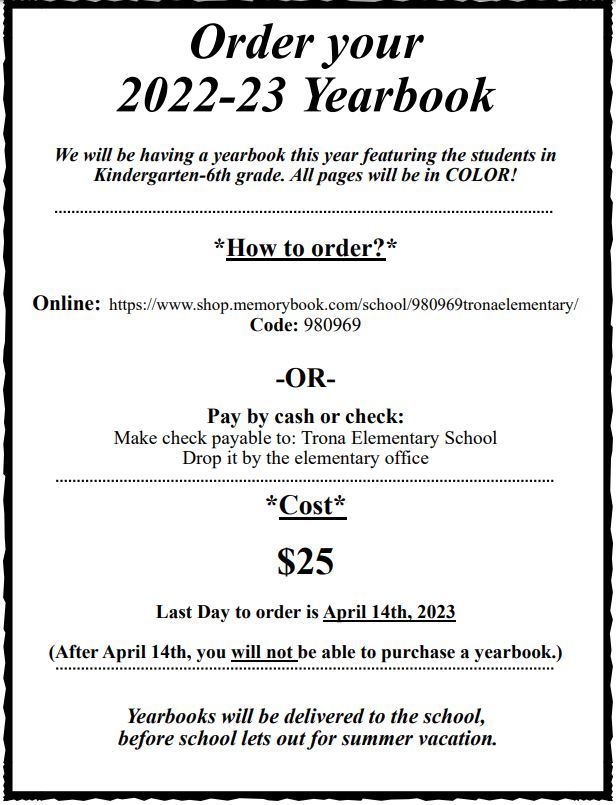 1/12/23 UPDATED- 22/23 Basketball Schedule- Check back frequently for updates.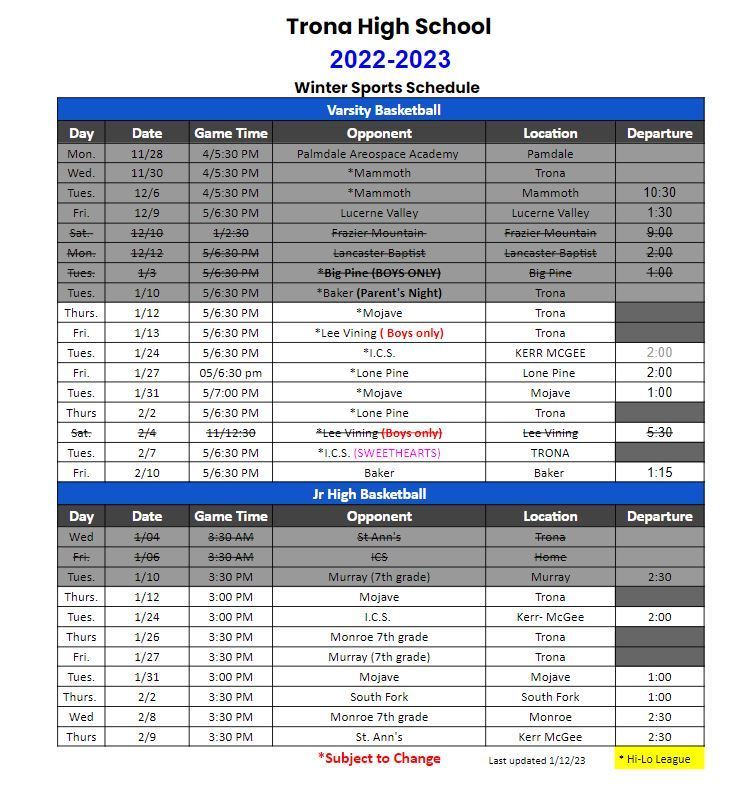 Family Movie Night Friday, January 27th @ 5:30pm For a more accessible version click here
https://5il.co/1n2cg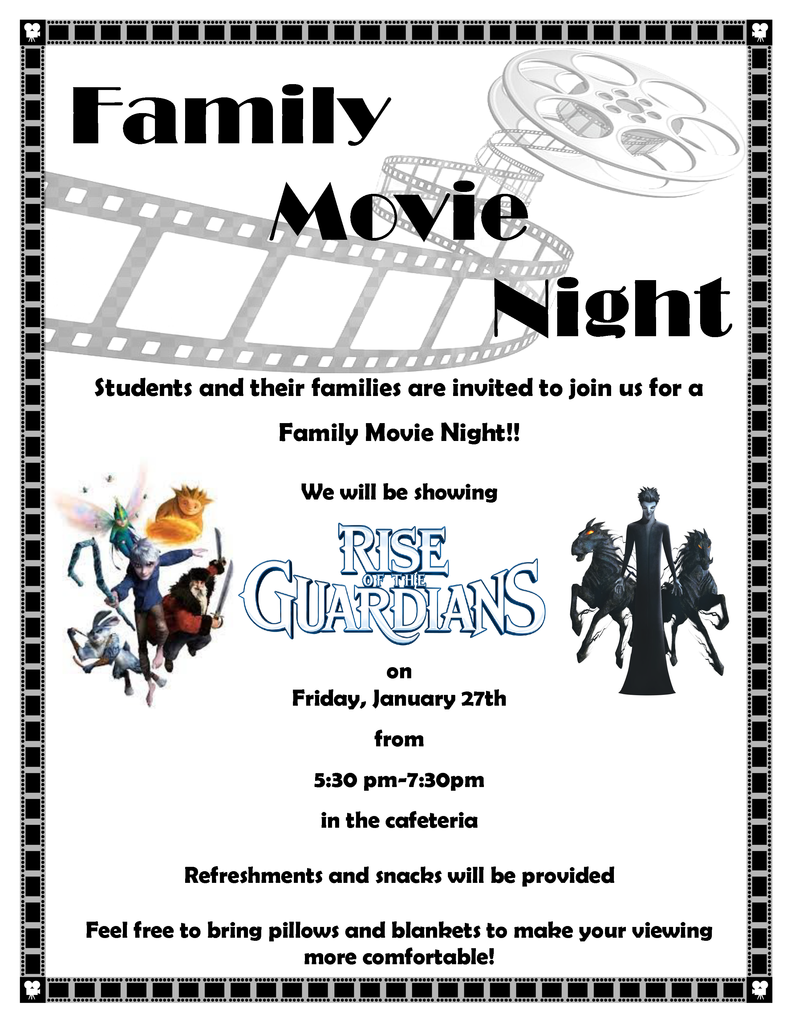 Social Media & Drug Awareness Assembly presented by Hesperia Police Department For a more accessible version please click here
https://5il.co/1n2ce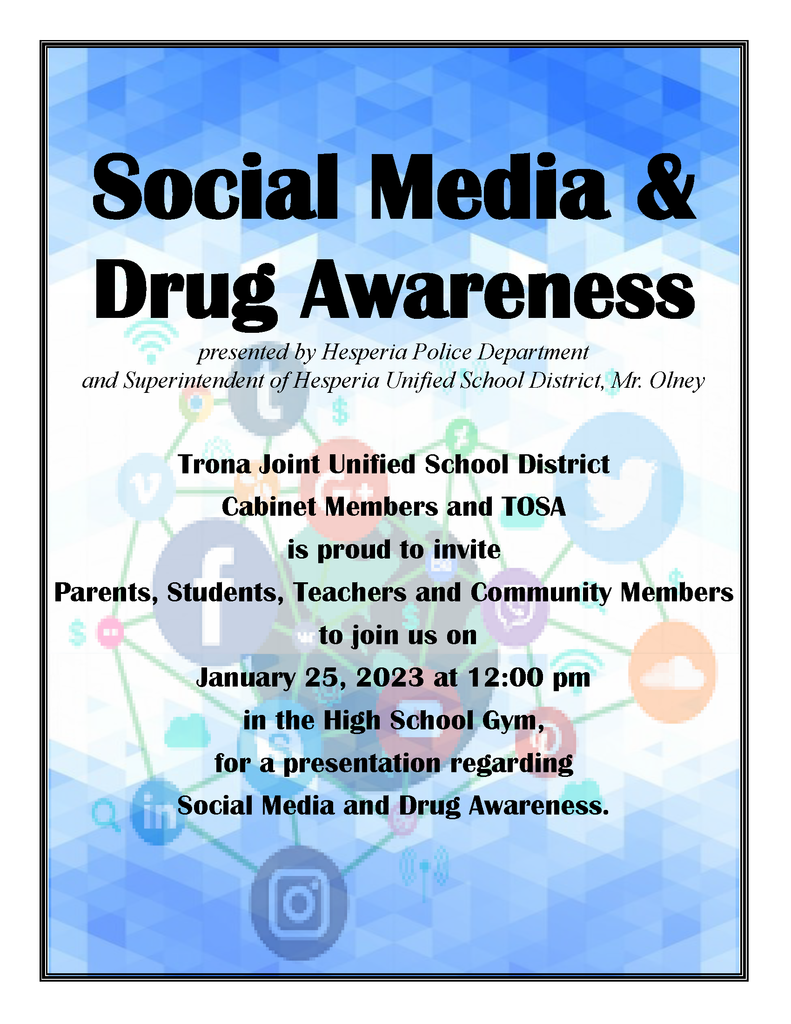 22/23 Basketball Schedule- updated 1.9.23 Check back frequently for updates.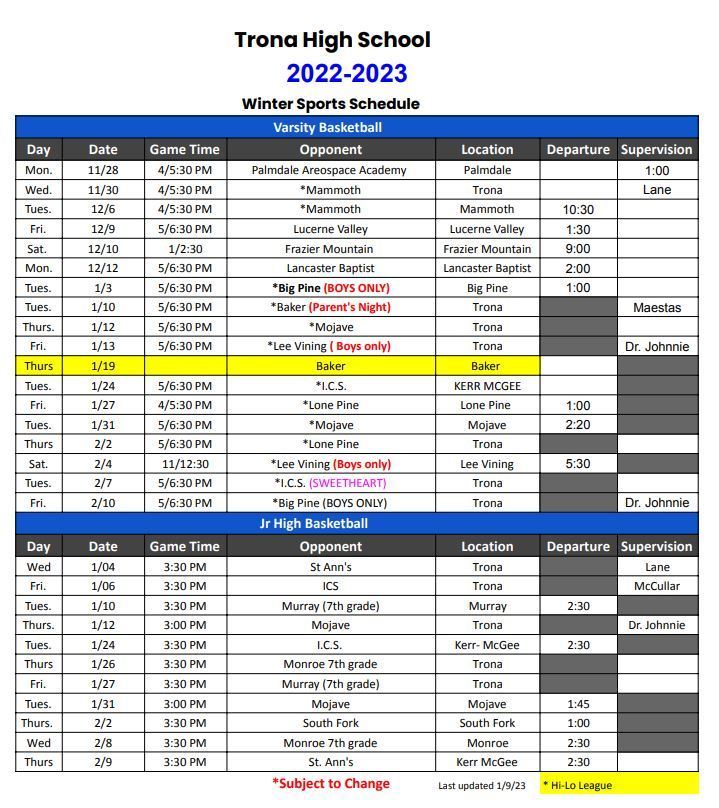 Free Dental Screening November 21 from 9:00am to 2:00pm at Trona Senior Center. Children Only (0-18 years)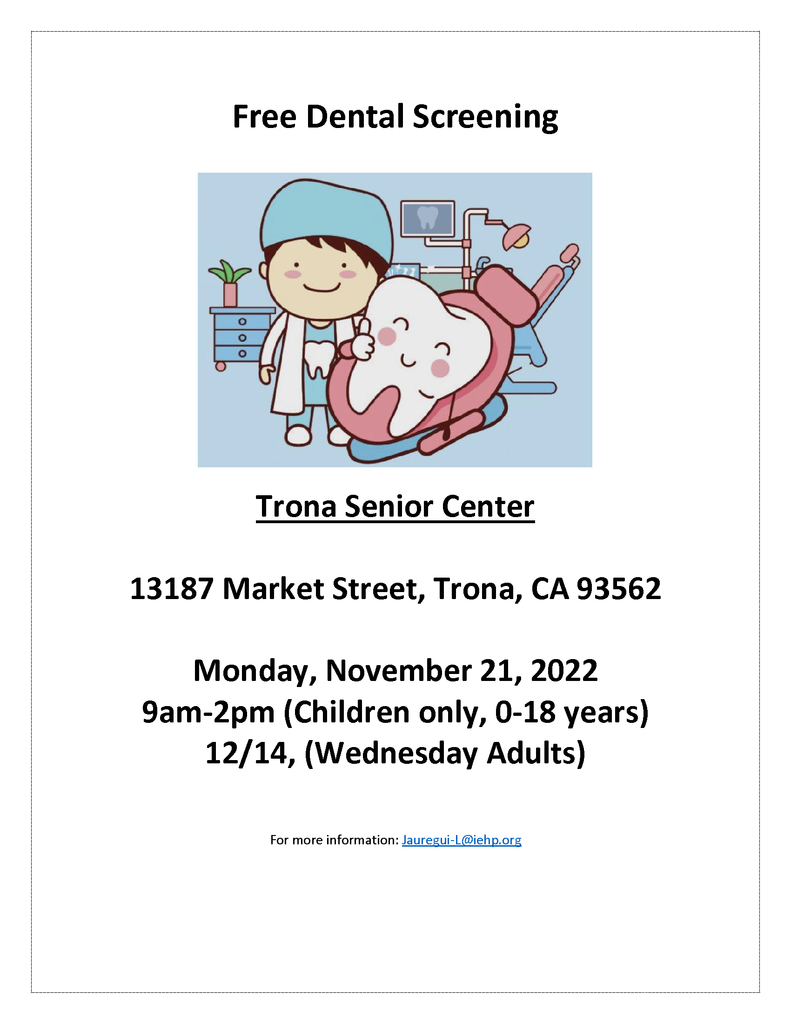 Community Clean-up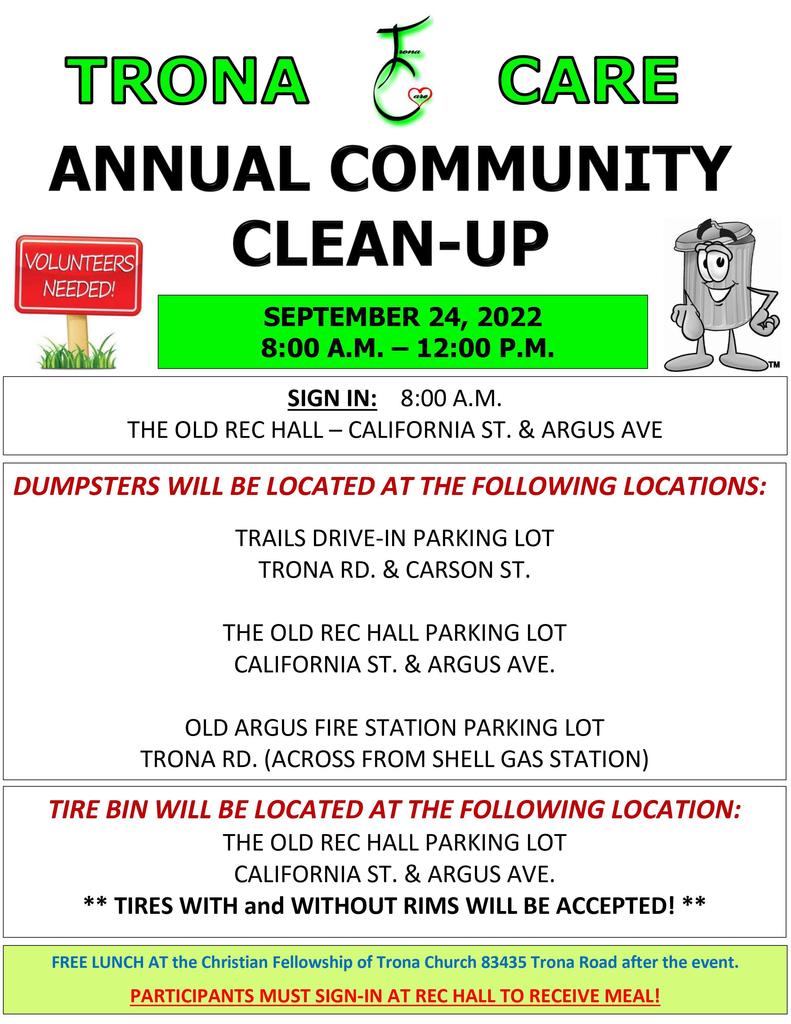 This letter is to notify you that TRONA JOINT UNIFIED SCHOOL DISTRICT has a possible case of chickenpox (also called varicella) has been reported in a child attending our school and your child may have been exposed. For a more accessible version of the letter click on this link
https://5il.co/1h556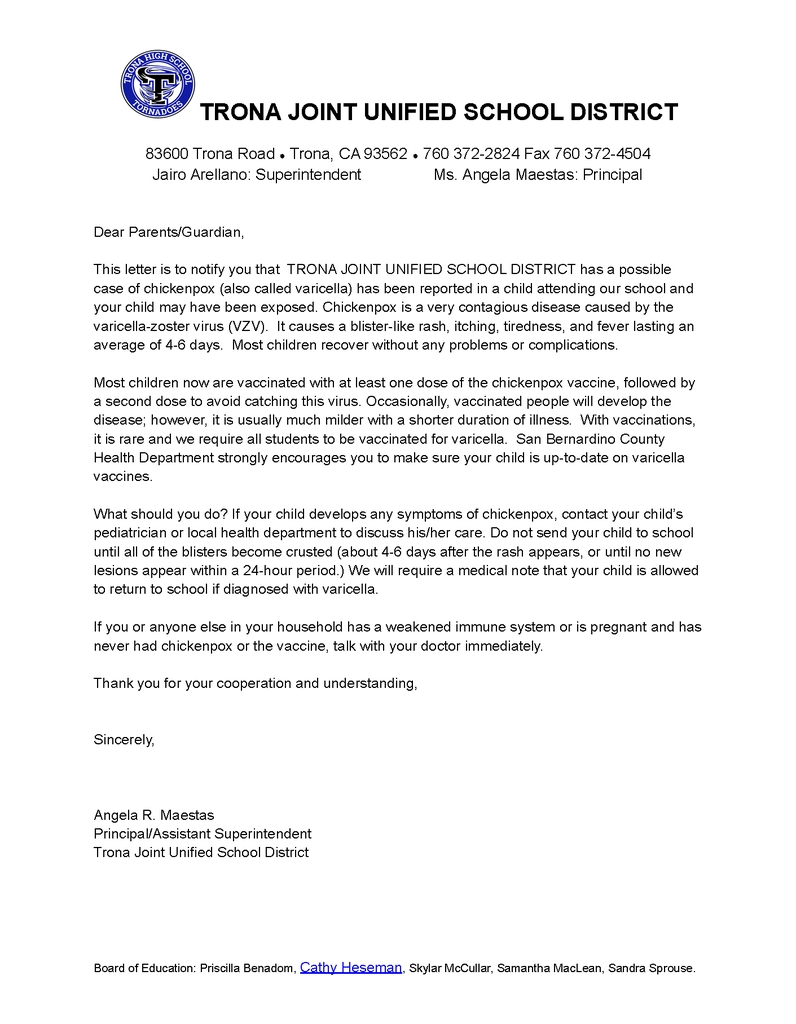 The Trona Community Pool is closed for the season. Thank you to the community for joining us this year!

August 11, 2022 First day of the 2022-2023 school year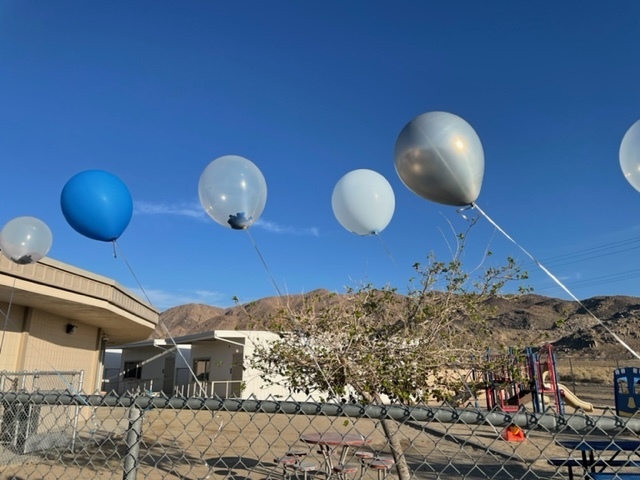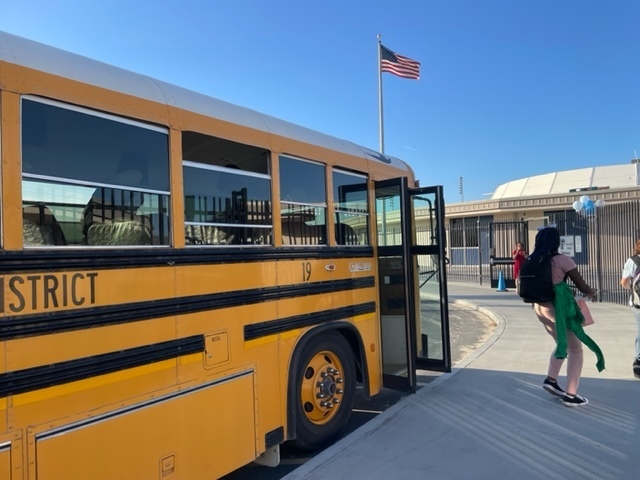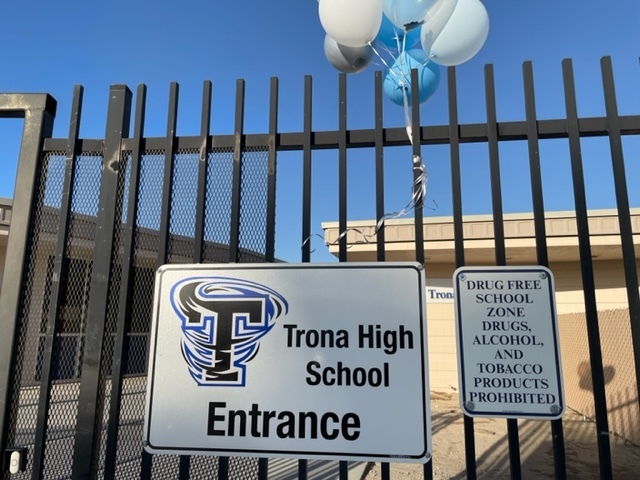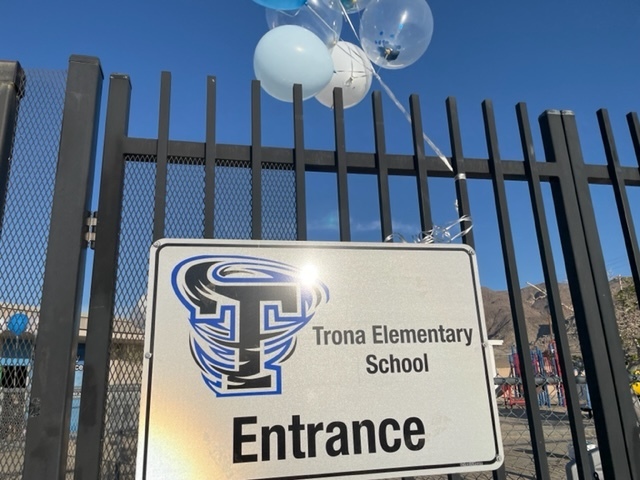 Pool will be closed today June 22nd due to weather

The Trona Community pool will reopen on Saturday, June 18, from 11:00 am-6:00 pm. Please have a look at our website for future schedules. Pool hours are subject to change:
https://www.tjusd.net/o/trona-jusd/page/summer-recreations
We recently closed the pool for maintenance to assess if there were rough surfaces on the bottom and sides of the pool. We determined there appeared to be mineral deposits on the guanite of the pool. We believed this to be a layer of calcium deposits. After consulting a few pool experts, we decided the best course of action for us was to scrape and sand the rough surfaces. We believe the situation has been corrected. For those who would like to wear water shoes/sandals in the pool, we do allow it as long as it does not hinder your ability to swim (regular shoes are not allowed). If you have any questions, please ask the pool attendant on duty. We encourage all patrons to notify the pool attendant or the lifeguards if they feel there are any safety concerns at the pool. Please assist us in making our community pool a fun and enjoyable facility for our community.

The pool will be closed starting tomorrow, June 8th, until further notice due to maintenance purposes. We are currently working on assessing the situation. We will post updates on our website as soon as possible. We apologize for any inconvenience.

Pool Hours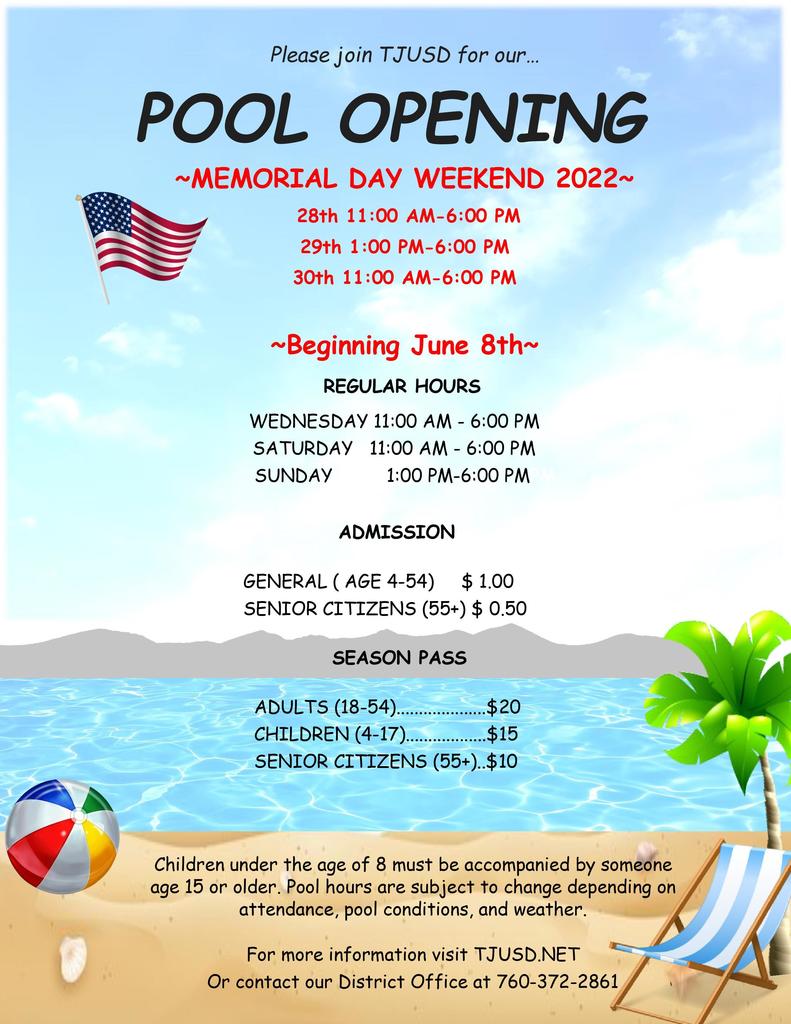 Don't forget about Career Day tomorrow!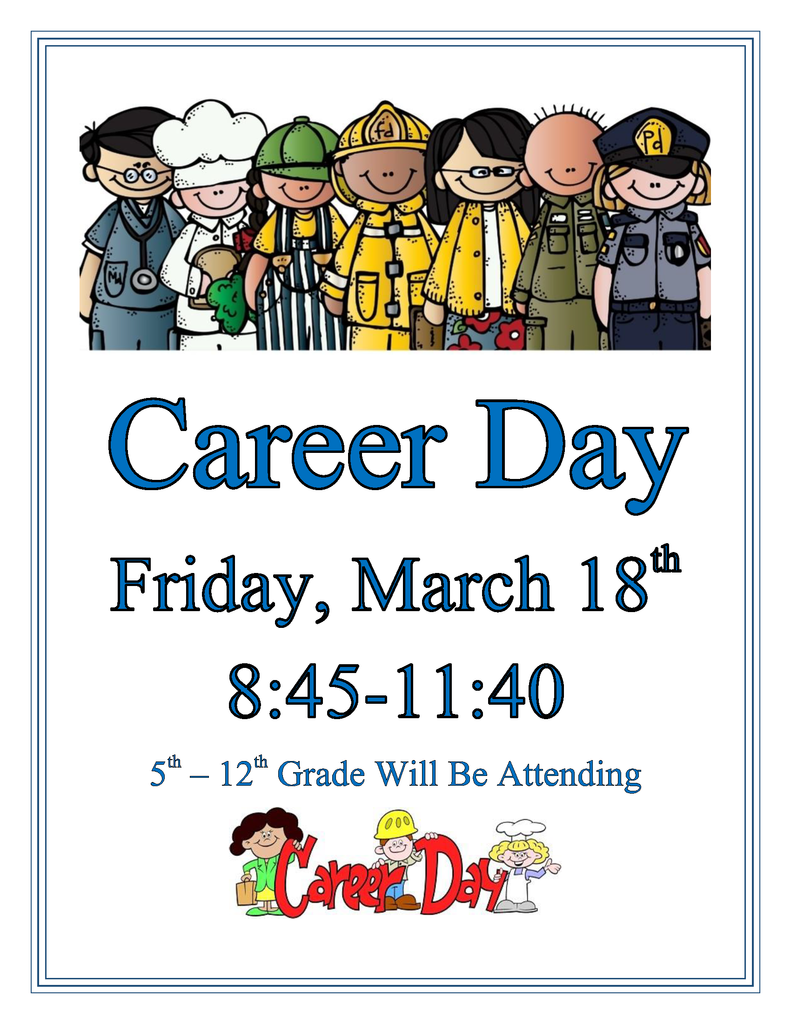 Song of Salt Preview Screening Saturday, March 12th, 2022 on High School Football field Gates open at 6pm. Movie starts at 7pm RSVP on Facebook event or Surveymonkey link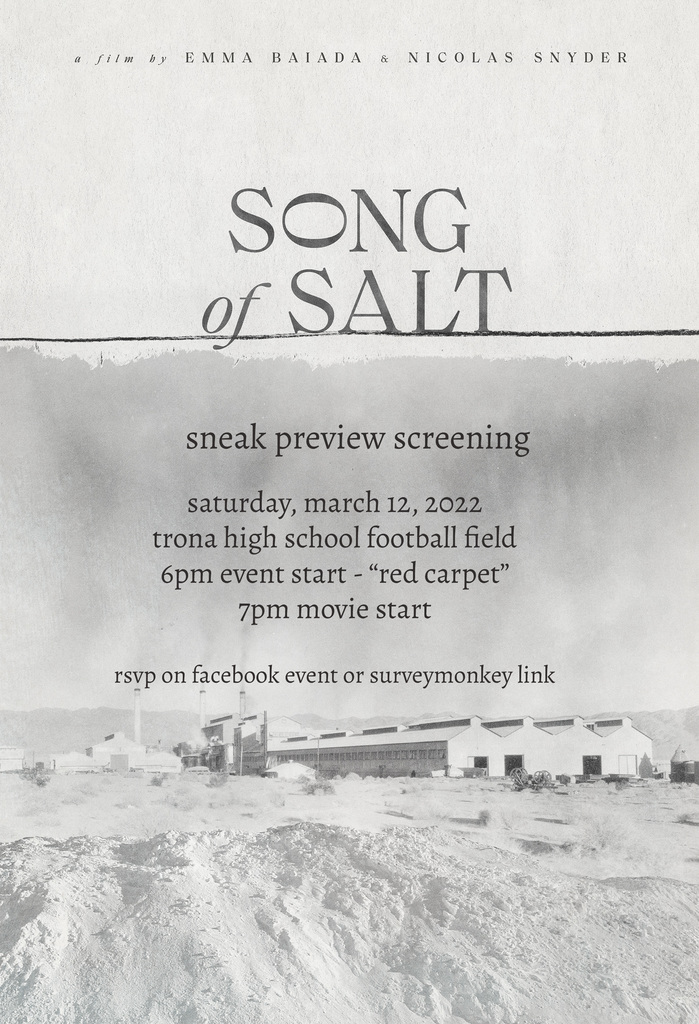 2nd Annual Photography Contest in the Trona High School Library, February 15th from 7:00pm - 10:00pm. For more information contact Raniyah Flores 760-614-5554