Don't forget about Career Day tomorrow!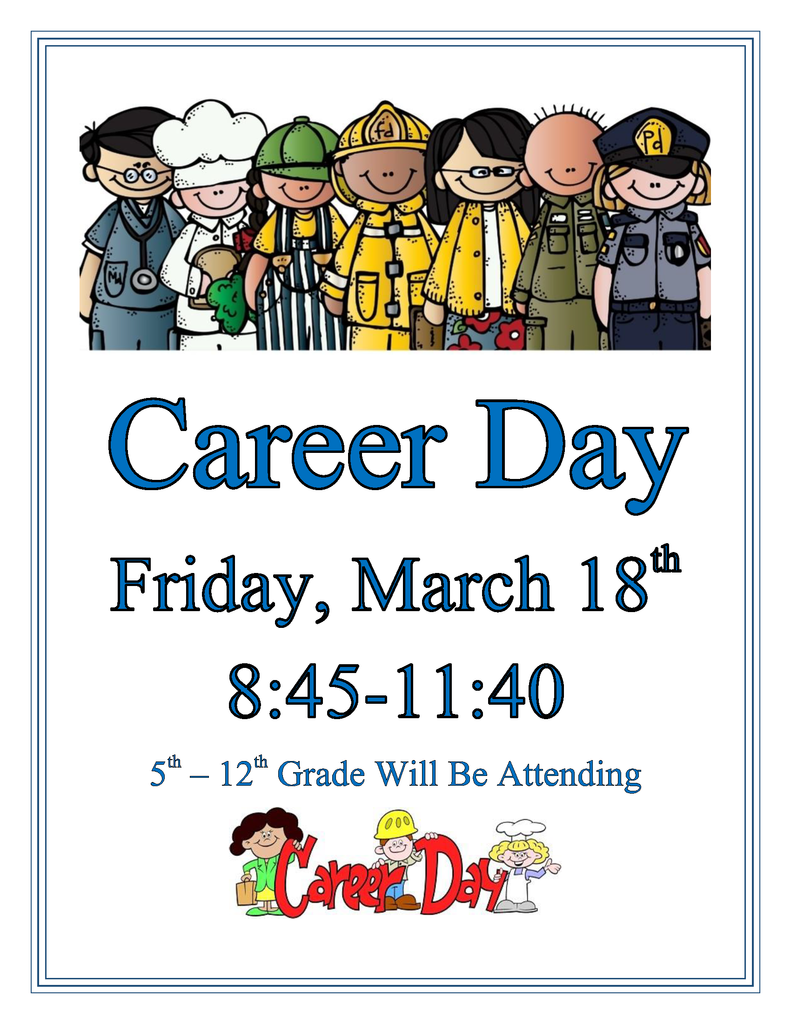 Song of Salt Preview Screening Saturday, March 12th, 2022 on High School Football field Gates open at 6pm. Movie starts at 7pm RSVP on Facebook event or Surveymonkey link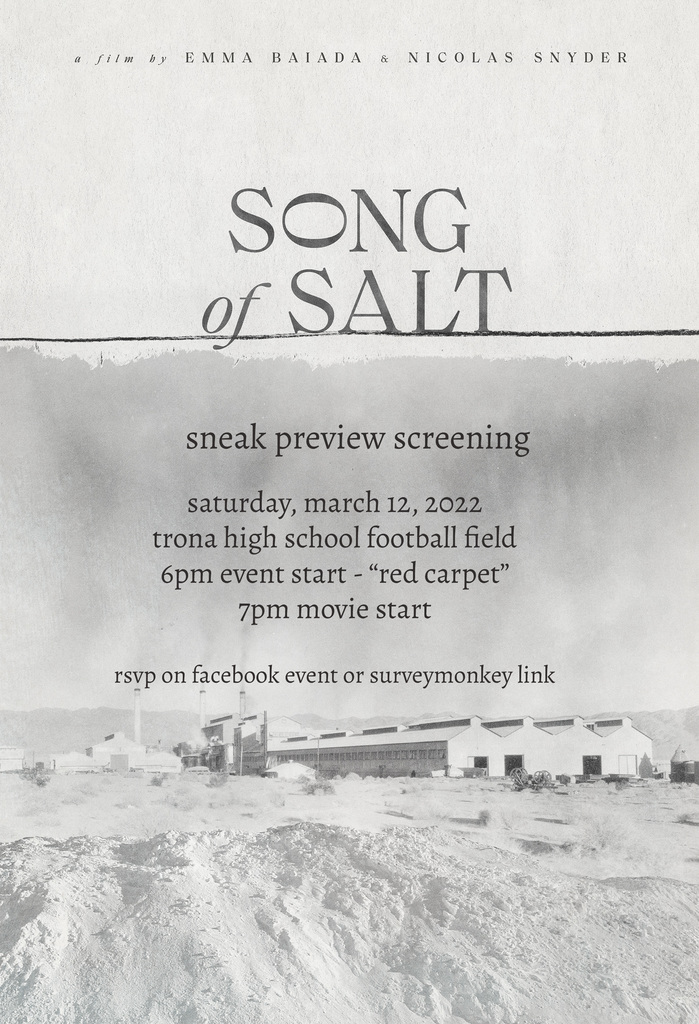 2nd Annual Photography Contest in the Trona High School Library, February 15th from 7:00pm - 10:00pm. For more information contact Raniyah Flores 760-614-5554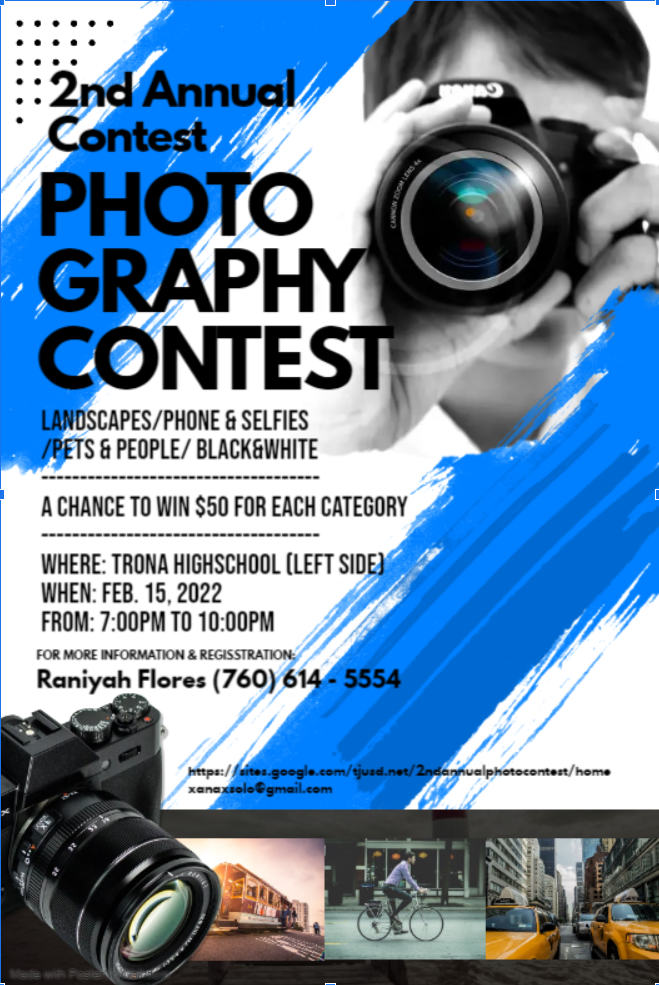 This message is from Trona Unified School District. On December 22, Governor Gavin Newsom announced that the California Department of Public Health would be expanding COVID-19 test distribution efforts to all school districts. They will provide 1-2 rapid test kits per K-12 student. Trona Joint Unified School District received the test kits yesterday and will begin distributing them today, January 13, 2022. If parents or guardians would like to receive a test kit for their student, please go to the elementary or high school office. Test kits will only be distributed to parents or guardians of the student. Students will not be given the test kits without a parent or guardian present. The high school office will distribute kits for high school students, and the elementary school office will distribute test kits for elementary students. The District would like to remind students/parents to carefully read the safety precautions/directions. If you have any questions or concerns, please contact your site office. Elementary School 760-372-2868 High School 760-372-2824
A letter from Dr. Arellano to Parents and Guardians of TJUSD Students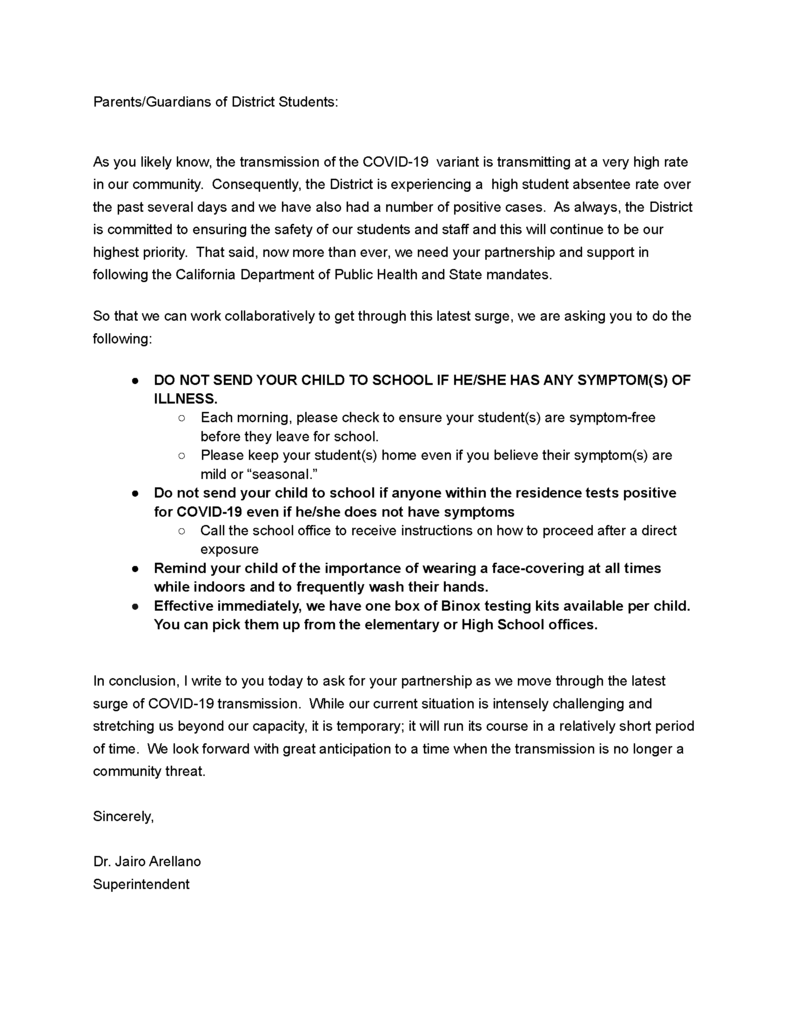 The Trona Joint Unified School District Board of Trustees meeting, (scheduled for Thursday, January 13) will be held virtually. Due to the number of local COVID cases locally, we are taking every precaution to help prevent the spread of this outbreak. Although in-person attendance is not possible, we are making every attempt to ensure that those wishing to participate with public comments have the opportunity to do so. As always, our policy states "That Persons desiring to address the Board on any Agenda item may make a request to do so at this time. Three minutes will be allocated such person at the time he/she speaks. In order to comply with this policy, Public Comments may be emailed to
pbenadom@tjusd.net
or sent (or delivered) to the District, High School, or Elementary School office(s) by 2:00 pm on Thursday, January 13, 2022. All public comments that are received will be read during the meeting by the board president. (For your information, board members generally do not comment on items addressed during public comment but issues raised are typically addressed with administrators to ensure that issues are addressed and /or resolved). Over the past few months, we have been working on ways to get parents and students more involved at the board meetings and we regret that we cannot have the public in attendance this month. We will do everything in our power to resume public meetings as soon as possible and we appreciate your cooperation and participation. Should you have any questions concerning board meetings or public comment, please feel free to reach out to any of the board members or school staff. The following link will allow you to view the board meeting.
https://youtu.be/nFD56p8POEs
Thank You, Priscilla Benadom, Board President

Trona Joint Unified School District partnered with Care Solace to support the well-being of students and their family members. Care Solace is a complimentary and confidential care coordination service that can help you quickly find mental health or substance use treatment options matched to your needs regardless of circumstance. If you or a family member are looking for help with mental health or substance use and would like to use Care Solace to help you find a provider: Call 888-515-0595. Support is available 24/7/365 in any language. Visit
www.caresolace.com/trona
and either search on your own OR click "Book Appointment" for assistance by video chat, email, or phone.No matter how you plan to spend your time, we wish you each a safe and restful break!

We are excited to share with you that San Bernardino County Superintendent of Schools "Student Essential/Soft Skills Boot Camp" too place on November 17-18th. This was our Fourth Annual implementation of the Soft Skills Program . The Boot Camp assists high school students from throughout the county develop and enhance essential job or internship skills to effectively move from school to career and higher academic pursuits. Students attending the Boot Camp deepened their skills as a/an: · Effective Communicator · Ethical Decision-Maker · Creative & Critical Thinker · Future-Focused Planner · Team Player · Contributing Citizen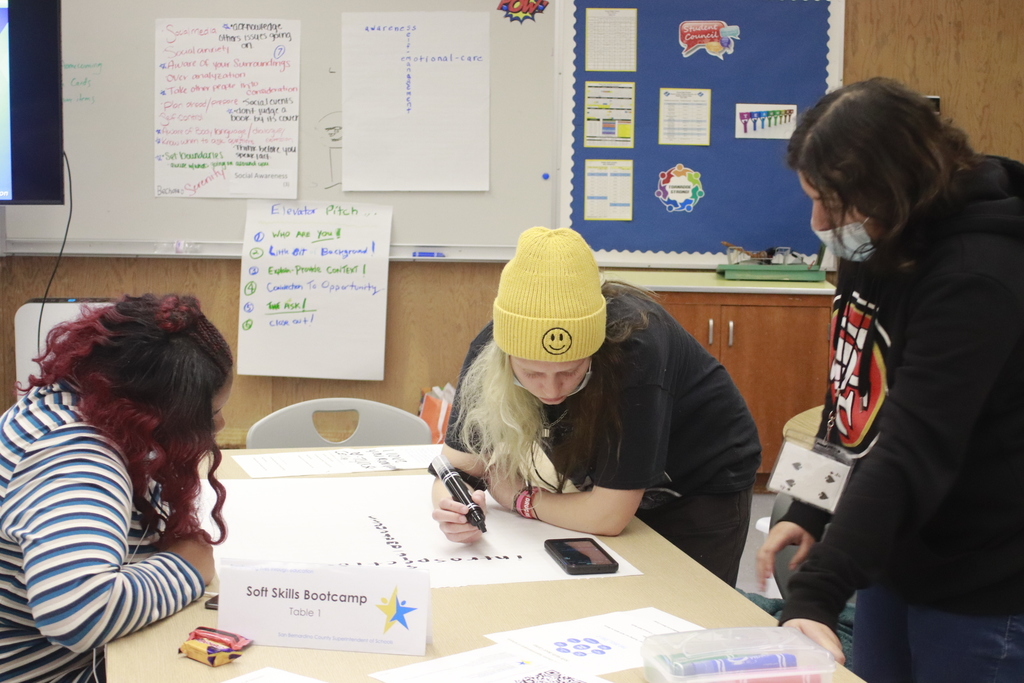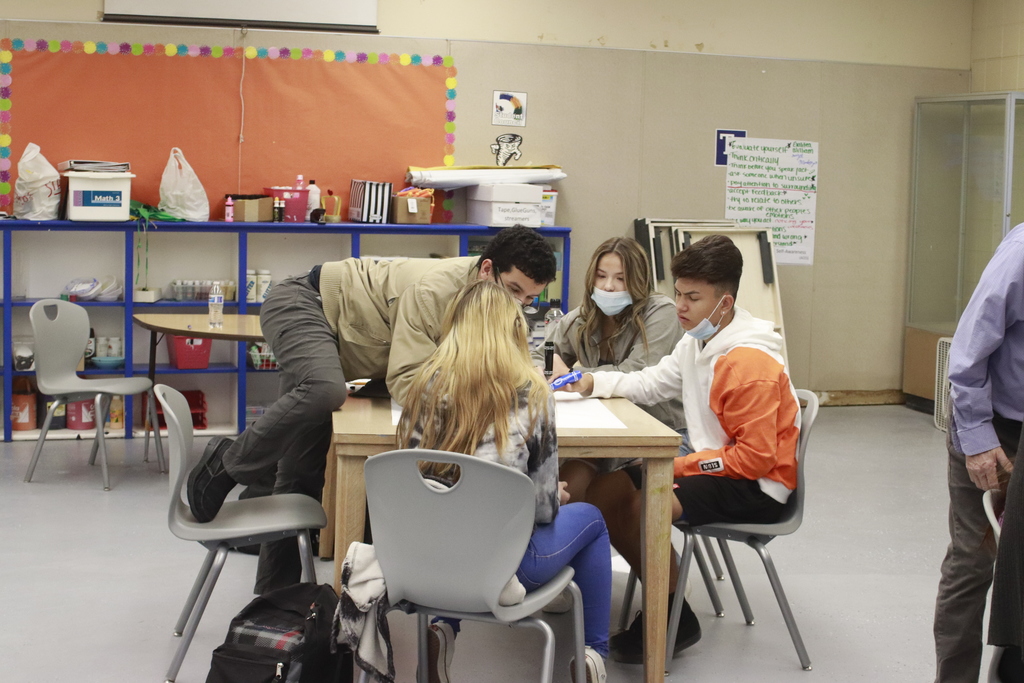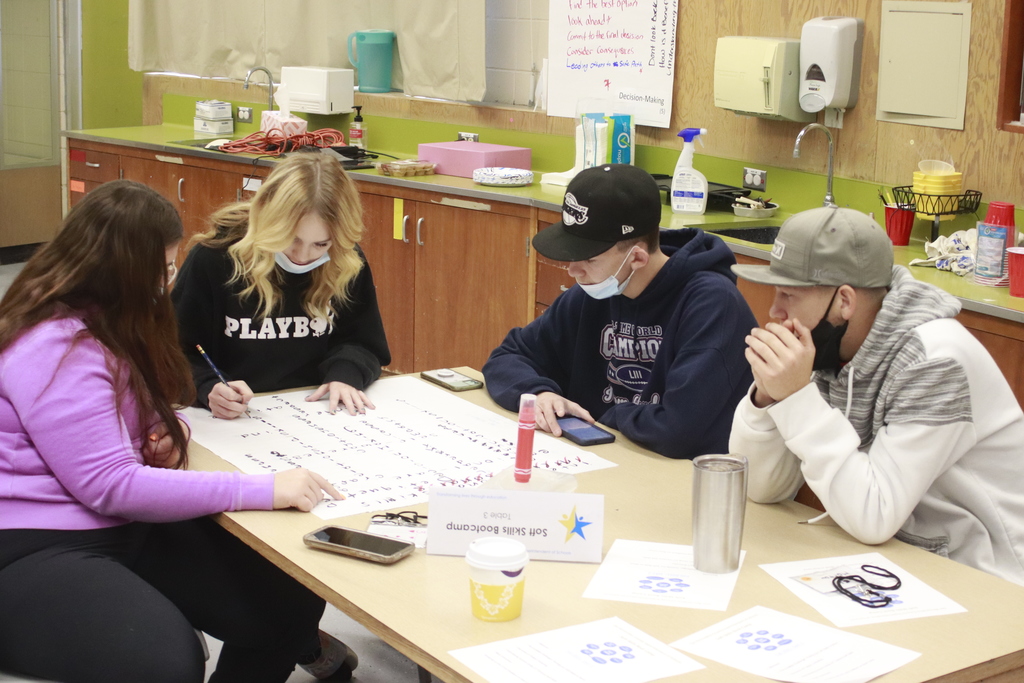 Homecoming Community Events.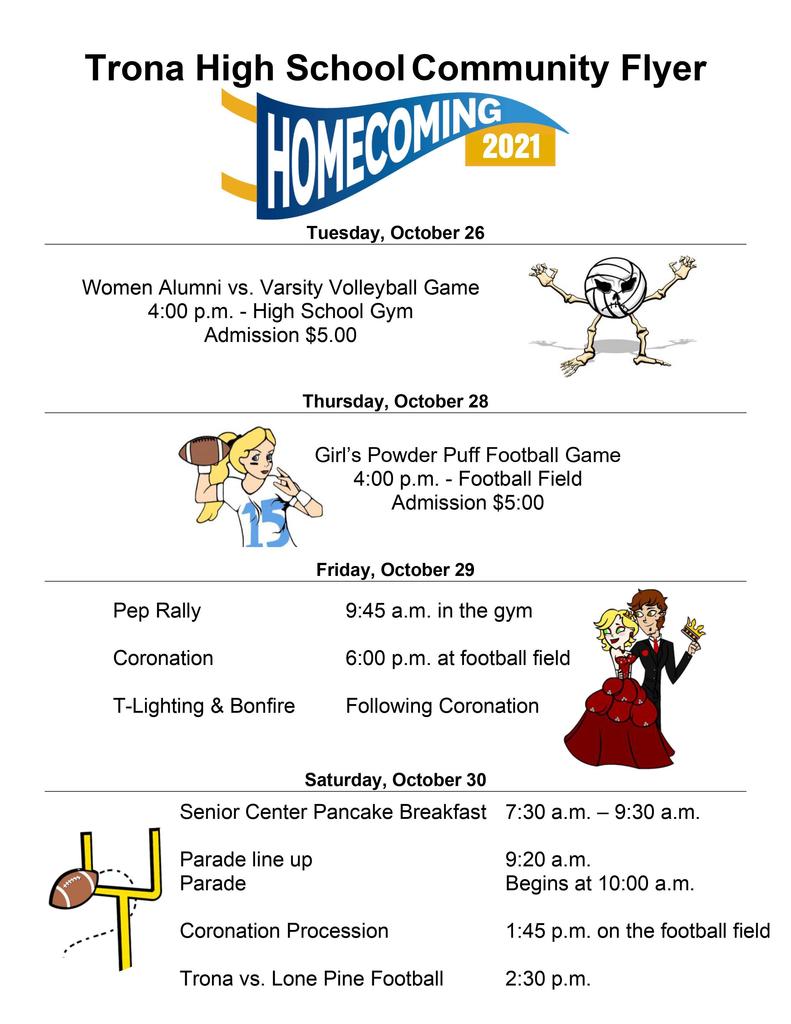 Dear Parents/Guardians and Students, The passing of AB 104 (Gonzalez), contains a provision that allows high school students to change their letter grades to a Pass or No Pass grade on their transcripts for the 2020-21 school year. Attached to this letter is a "request a grade change" form that the students will fill out and submit to the high school office. This has also been posted to our website. Both the CSU and UC systems have issued guidance on how they will handle admissions and GPA calculations for transcripts with Pass or No Pass grades. The CSU information can be found at the following link
https://www2.calstate.edu/apply/Pages/first-time-freshman-faq.aspx
UC information can be found at the following link
https://admission.universityofcalifornia.edu/response-covid-19.html
AB 104 requires CSU schools, and encourages UC and private postsecondary schools, to accept without prejudice any transcripts with Pass/No Pass grades. Students will have 15 days from today to submit the "request a grade change" to the high school office. AB 104 states that the high school shall not honor grade change requests after 15 days. The high school will have 15 days from the day the grade change application is received to change the transcript and notify the pupil and the pupil's parent/guardian of the change. Here is a link to the letter and form
https://5il.co/w96d
. A more accessible version is available in the high school office. If you have any questions, please let us know. Thank you Trona Joint Unified School District

The county donated a number of clothes for our students. These clothes were previously going to be used in uniform schools. clothing. We have skirts, pants, shorts, shirts, sweaters and more. We have a lot of clothing for k-3 and some clothing for 4-12. We will be in the old high school library till 9:30 this morning. If you are interested and cannot make it this morning please reach out to the high school office.


Just a quick update on yearbooks. They will not be in until late July or early August. Once they are in we will send out an announcement and set a date for a distribution party.